An Interview with Willow Bayer
by Cristian Andersson
I recently had an opportunity to sit down and talk with emerging artist Willow Bayer, whose recent paintings and collages are hanging in the atrium at the Trout Museum of Art, in Appleton, Wisconsin. After double-checking that the recorder would pick up our conversation through the masks and the space between us, we had a long, in person talk between artists. What a treat that was.
While she had always created, Bayer found the inspiration to pursue the arts as a career at Fox Valley Lutheran High School. Winning the honorable mention twice in the Scholastic Art competitions was the catalyst to higher education, first study- ing with Frank Zetzman at UWFV, and then with Leslie Vansen and Shane Walsh at UW-Milwaukee, where she earned her degree. Bayer found preference in draw- ing over painting, finding more satisfaction in the feel and control that the draw- ing mediums provided. Late in her years at the university she took a collage class taught by Walsh which led to more experimentation in her work, and a discovery on how she could begin to combine painting comfortably into her artistic practice.
By using imagery in found photographs—some from the university archive, others from estate sales—Bayer was able to construct the particulars of people she never met in a story-telling manner. Leaning back into her love of animation and the nostalgia children's books, Bayer created situations frozen in time, and yet so full of life, in her unique collaging style. Using two copies of the found photograph shewould use one as a base and then cut out specific items of the second copy, mount- ing it to the base layer with thin layers of board in between, creating a shallow topography to the image. On top of that Bayer will then draw into the image. Crisp outline penwork, once again referring back to animation, gives a final definitive line to the imagery that is often dense with color and detail.
"These pieces are a bit of escapism," Bayer told me. "I spent eight months after graduation feverishly lost in this collage work, creating spaces that I wanted to immerse myself in."
I asked Bayer if she can envision where she sees her work progressing. She replied that she uses Illustrator as her digital sketchbook, and that she certainly enjoys the capabilities that the computer can provide. Bayer said that she definitely has an interest in computer video, but then immediately made mention of how much she loves hand-drawn animation. At the university she made a forty-five second animation that required five hundred images to be painted on glass.
Bayer's showing of work is a part of the ongoing "Art is Her" rotating exhibition held at the Trout Museum of Art. The year 2020 marks the 100th anniversary of the 19th Amendment, guaranteeing women's right to vote. This rotating exhibition is a celebration of work created by women artists, who have a long history of un- der representation in the visual arts. I asked Willow on her thoughts of this show, and what it means that this opportunity has been developed. "It is very import- ant," she responded, "and I have felt my work questioned and myself ridiculed. I have had to stand up for my work, and my integrity. And while Wisconsin is doing a pretty good job representing women, gender can definitely play an issue."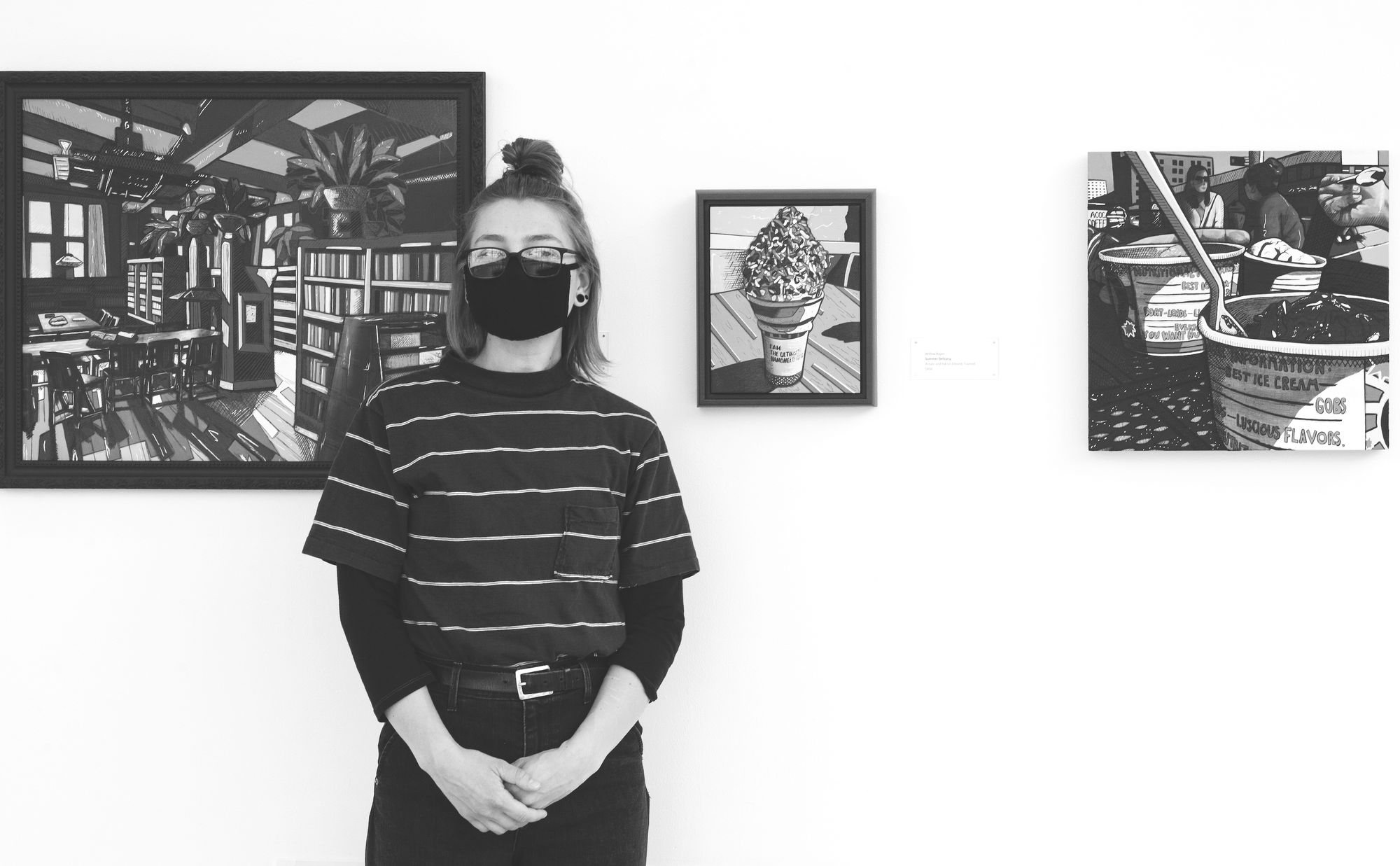 Willow Bayer's work will be on exhibition until October 31st, 2020. The Trout Museum of Art is located in downtown Appleton, 111 College Avenue. More about the "Art is Her" rotating exhibition can be found at: https://troutmuseum. org/art-is-her/. Bayer's work can be found on Instagram @WillowMae and at willowbayer.com.