by Cristian Andersson
Three non-profit groups: People of Progression, fsm., and the Photo Opp have partnered on an ongoing project for Black and African-American middle- and high- school students. Revolving around film photography, it is about learning a new process, experiencing new places, and sharing insights through art. The first day, detailed below, happened October 16th, 2022. A selection of prints taken by the students will be on display at Lawlss Coffee, Appleton, starting early December. One of the images taken that day, by Ashyra, is on the cover of this paper.
When I returned to the university to study photography, I was given a small button, black type on a pink background, that I pinned onto my jacket pocket. It read: ART IS NOT A PRIVILEGE. I think all of us students got buttons with different slogans, some silly and some sensible. Mine became a bit of a mantra for me, and it is printed on the back of every issue of fsm. I'm sure there are several interpretations of what those five words mean, but for me, it means this: the ability to create and share art is not only for the few but for all. To observe life, think of a question, and develop it into something artistic is just as essential to all of us as food and shelter. What is made doesn't have to be anything elaborate. It could be a whistled tune, a sketch, or a few rhyming lines. Why I think it is essential, available to all, and therefore not a privilege is because it is an individualistic expression of how we see the world. It becomes a recognition that we matter. And, if given a chance to develop, sharing our unique perspective can hold a lot of power.
Question: If your camera was a superpower, what picture would you take with it? Tariyjah: I would take a picture of someone picking up trash to show that littering is wrong. It's killing all the plants and animals.
On a rather windy mid-October Sunday, after a month of planning, we set out on our first photo excursion. We had a few stops planned: a public land preserve, lunch, head to downtown Neenah, and then back to home base to talk about the day. Six middle- and high-school students were given point-and-shoot film cameras and some instructions on how to use them. There were a few goals for the day, but the big one was to create an experience for these students that they may not have had before. "Thought it was funny how they did not know how to use the cameras. It was great seeing them intrigued over the older technology," Lanise said, one of the People of Progression mentors. And it was great. There was some excitement in the unknown of what a picture would turn out like, if at all, when it isn't taken with a smartphone and instantly critiqued. That level of abstraction is really intriguing. "Seeing the kids getting excited about learning something new. I love seeing people experience new art forms and opportunities," Rovell, another mentor, remarked about the day.
Question: If your camera was a superpower, what picture would you take with it? Alyana: I would take a picture of nature. I think people should pay more attention to nature and get back to their roots.
Alayna really seemed to have resonated, as did so many of us, with being outdoors in the land preserve. Deb, the Executive Director of the land trust that is a caretaker for the land we were visiting, shared some powerful thoughts with us:
What many see of our work at the land trust, and is, in fact, our primary mission, is to preserve permanently natural spaces that are essential ecological habitats. We become stewards of the natural land. Through land donations, conservation agreements, and outright purchases of property critical to species of plants, animals, fish, and birds, we restore the spaces so these species can thrive.
But there is more to what we do. We are caretakers of private, protected conservancies and publicly-accessible preserves, like the Guckenberg-Sturm Preserve, where we went on this photo outing. For the open lands to the public, we facilitate ways for people to passively interact with these natural habitats. Places where we can learn and wonder about nature. Be at peace. In fact, there is so much symbiotic history of people and the lands we protect. We cannot forget that this land was the home to many First Nation tribes. [The Omāēqnomenew- ahkew (Menominee), Očhéthi Šakówin, Hoocągra (Ho-Chunk), and Myaamia have been inhabitants of the lands in the region of the Guckenberg-Sturm Preserve. You can investigate indigenous history through https://native-land.ca, ed.] It is vital for the land trust, charged with protecting these spaces, not only to find ways to make them accessible to everyone but also to look to the original inhabitants of these lands. I suspect there is much we can learn about how these First Nation tribes related to the flora, fauna, and fungi. And, as we dedicate ourselves to restoring these environmentally-significant lands, we aimto consider and honor those who have done the same before us.
Question: If your camera was a superpower, what picture would you take with it? Lamond Jr.: I'd take photos of taking care of the earth and getting rid of hate.
Cainan remarked, "I enjoyed seeing how curious the kids were about the land, the questions they had, and how excited they were about interacting with nature."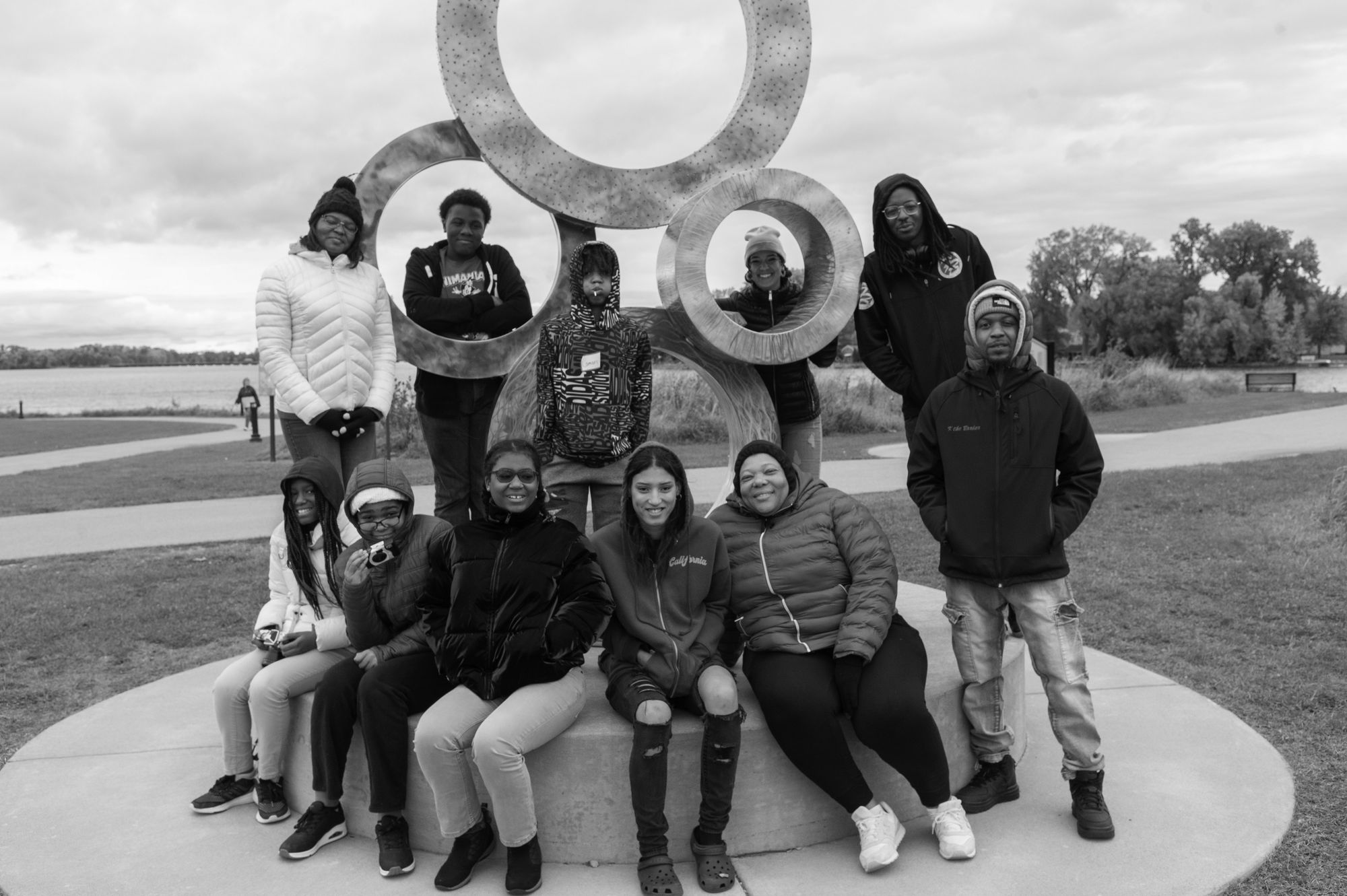 That was the magic of our time spent in the woods and marshy area. For a moment, we were taken out of the city. Our everyday routines were put on pause. We learned about the land and walked through the trails and amongst the reedy banks. And while we were together as a group, laughing and having a great time, something happens when you bring up the camera, peer through that viewfinder, and just focus. It is at that point when everything falls away, and you find yourself looking for that beautiful image to memorialize on film with the press of the shutter. Extrapolating out the superpowers mentioned above really speaks to the need for peace in our lives.
Question: If your camera was a superpower, what picture would you take with it? Ashyra: If I could change anything with my camera's superpowers, it would be racism and world hunger.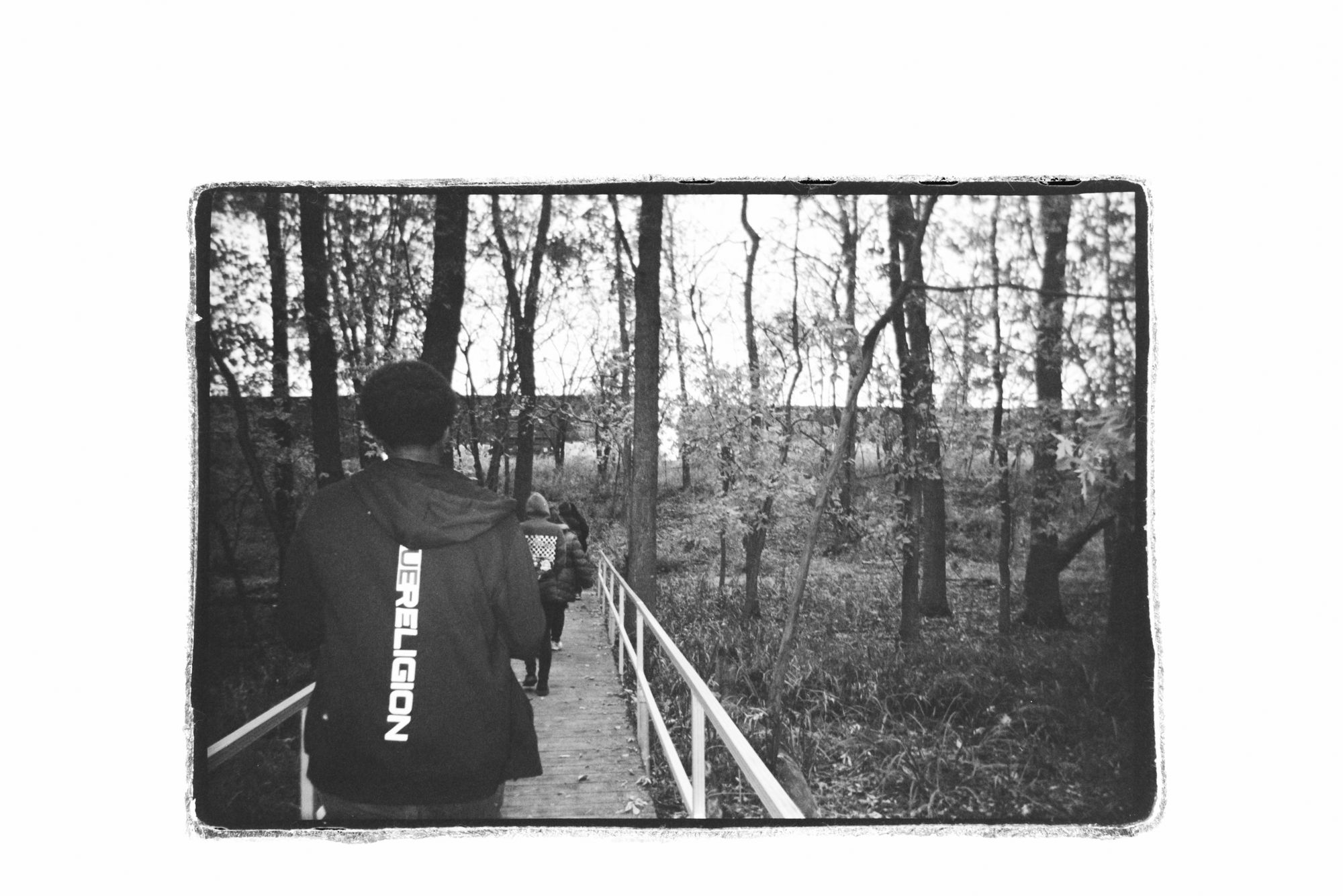 Question: If your camera was a superpower, what picture would you take with it? Peyton: I would take a picture stopping a white teacher from suspending a Black kid for the same thing a white kid did.
All of this circles back to the idea that art is not a privilege and that there can be power in the images that we create. It may be naïve to hope that a singular image could solve racism–there are plenty of images out there that have hoped to do just that–but I don't see it as a stretch to believe that an image, shown at just the right time, could change someone's personal belief. And that is a start.
Question: If your camera was a superpower, what picture would you take with it? Lamarcus: The one that gives everyone superpowers.
Exactly.
After a few hours taking pictures outside at the land preserve and downtown
Neenah, with a wonderful lunch break and catching a surprise dance performance between, we headed back to People of Progression's office.
There, Mark and John from the Photo Opp had another surprise waiting for the students. While the disposable point-and-shoot cameras were fun enough to walk around and experiment with, back at the office was an extensive collection of 35mm cameras. The students immediately took to these more advanced cameras, and with instruction from Mark and John, they started working with all the manual controls. "I loved how much they wanted to engage in photography," Dartainia said, "seeing that excitement reminded me of why I started mentoring."
I asked Mark if he remembered taking his first image and how it felt. And if that had changed over time.
"I don't recall the first images I tried to create because I'm sure they were probably poorly exposed and out of focus if there was anything on the film when I got developed," Mark responded. "But I do remember the first time an image really excited me. It was on a school trip to the New York World's Fair, and it was a photograph of the Unisphere, a spherical stainless steel representation of the Earth, which still stands in Flushing Meadows-Corona Park in Queens, New York. When I saw it, I thought it was good enough to be on the cover of Life magazine. I showed it to everybody, and no that feeling hasn't changed."
It will be interesting to see how the students respond to their work, and I'm looking forward to Rovell and me matting them up and hanging the prints at Lawlss. Next steps will be classes on learning how to better operate the 35mm camera, as well as developing and printing their own work. And, in March, there will be an exhibition of their prints at Liminal Space Gallery in Neenah for Youth Art Month. But, beyond all that, I do believe that this is going to turn into an exercise in empowerment and new ways of creative expression. I personally am looking forward to seeing what these students choose to focus their lens upon. I bet there are superpowers in a lot of those cameras they will wield.
As Kristen from People of Progression put it when reflecting on the day: "Representation matters, as well as creating excitement about the new ventures they will go on."
The mission of People of Progression calls for the collective liberation of African Americans by empowering families with the tools, training, and supportive resources needed to organize and guarantee that their issues, concerns, and values are represented in their communities.