On Exhibition at UW-Oshkosh
by Cristian Andersson
Two exhibitions are currently open to the public at UW—Oshkosh. Virtual tours are available for viewing, and curator Leslie Walfish has made accomodations for the safety of gallery visitors.
The UW—Oshkosh Art Faculty Biennial Exhibition is located in the larger Allen Priebe Gallery. This expansive exhibition includes Craig Clifford (ceramics), Karina Cutler-Lake (design), Cassie Marie Edwards (painting), Li-Hsuan Hsu (art ed), Tish Kopish (art ed), Tom Leininger (photography), Gail D. Panske (printmaking), Andrew Redington (3d), Emmet Sandberg (foundations), Trina Smith (painting), Wendi Turchan-Martin (painting), and Michael Wartgow (drawing and painting). This is a fantastic opportunity to see the work of these regional professional artists together. It demonstrates the wide breadth of technique and approach that these artists bring to our community and pass onto students at the campuses.
"Nevertheless She Persisted" is being exhibited in the intimate Annex Gallery, located on the second floor of the same building. It is a traveling collection of work, curated by Annemarie Sawkins, PhD, who had also curated the Afghan War Rugs exhibition that was presented in the Allen Priebe Gallery previously.

"Nevertheless She Persisted" is a print exhibition of immensely powerful and influential modern and contemporary women artists. These artists have fought alongside so many other women artists to gain the same level of recognition and success as men have. In a statement by Sawkins, she relates strong statistics to back up the very real inequities: women earn half of the MFAs granted in the U.S., however only 30% of artists represented in commercial galleries are women. A 2017 study by the University of Luxembourg found that artwork created by women sells for 47.6% less than that of men. In 2009, the important Art Biennale in Venice featured 43% women, dropping to 26% in 2015 and 33% and 35% in 2017.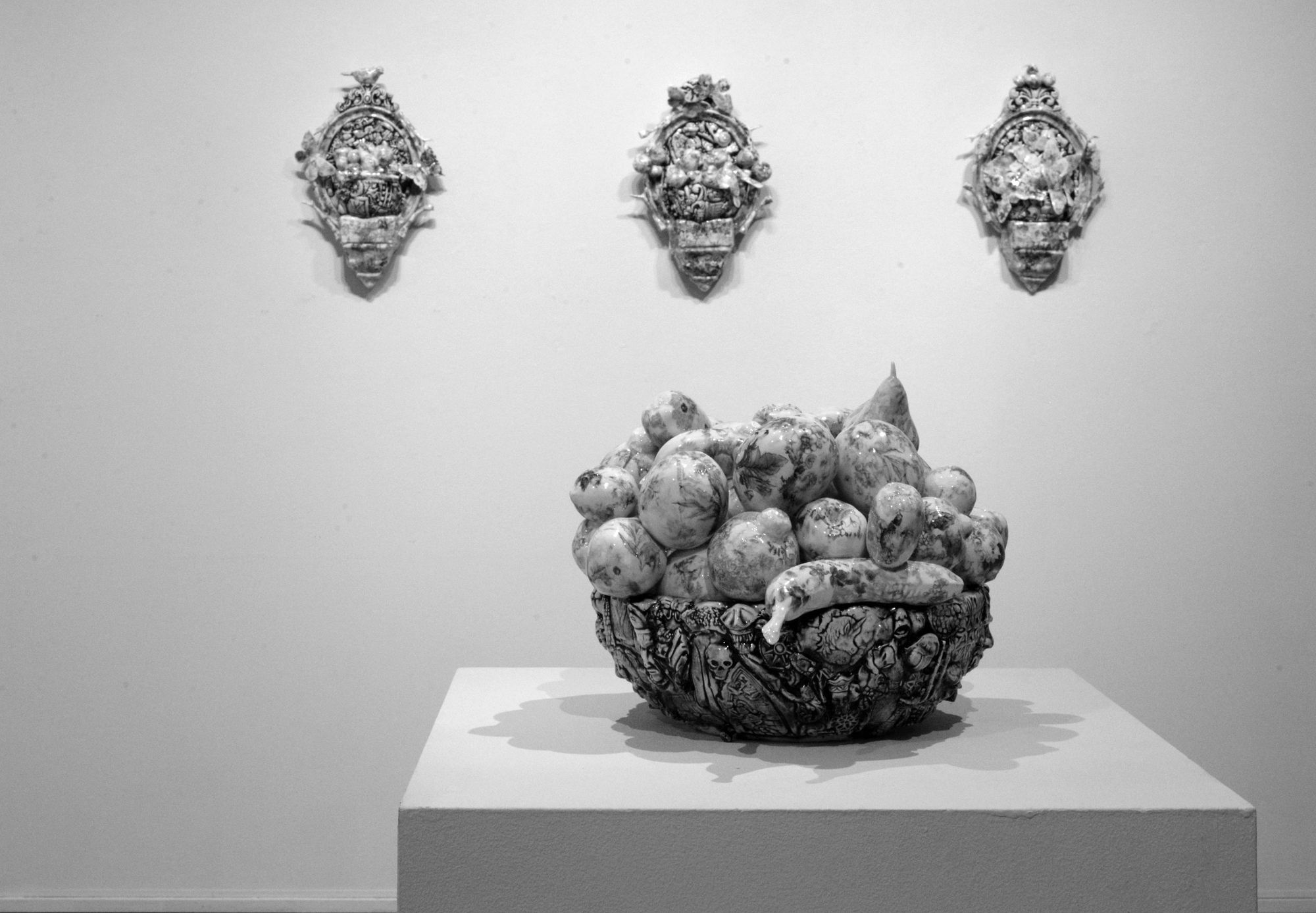 Art books are filled with the historical male artist, and while representation is getting better...it is neither equitable nor truly representative of the creative class, and further perpetuates an incorrect pattern that only men are the innovators and leaders in this field.
The artists included in "Nevertheless She Persisted" include Louise Bourgeois, Judy Chicago, Joan Snyder and Kara Walker. Quotes are placed on the walls amongst the work including these words from Kiki Smith: "Our culture seems to believe that it's entertaining to teach women to be frightened," and how art critic Lucy Lippart explained feminist art as "neither a style nor a movement," but instead "a value system, a revolutionary strategy, a way of life." Go to this exhibition, consider the work and the history presented, and come away with an understanding of the pervasive bias and struggle that these women face is unconscionable, and how it it is part of a larger pattern of male dominance in our culture that must be addressed.–Cristian Andersson
More information about these exhibtions, including hours and virtual tours can be found at: https://uwosh.edu/priebegal- leries/. as well as: https://uwoshfacultyexhibition.wordpress.com/ https://uwoshnevertheless.wordpress.com