Exhibition Review: Bringing Shipwrecks to Life Wisconsin Maritime Museum
Through November 6, 2023
By Carol Emmons
For many Wisconsinites, Manitowoc's Maritime Museum elicits memories of childhood submarine tours. A visit these days might surprise: the large modern building features Wisconsin maritime history, a 65-ton steam engine, shipwreck documentation, children's hands-on activities, and more. Dioramas, artifacts, models, a small "streets of old Manitowoc," and interactive elements all convey information. Efforts are made to acknowledge topics ranging from the water lore of indigenous peoples to aquatic ecology--i.e., to establish a broader context for the displays.
The temporary exhibition gallery currently features photographs and related materials by underwater photographer Becky Kagan Schott. A five-time Emmy Award-winning cinematographer, she conducts photographic diving expeditions all over the world, specializing in extreme conditions. The Manitowoc exhibit focuses on selected shipwrecks from three of the Great Lakes.
The show includes maps, ship data, and artifacts along with Schott's photogrammetry work and the resultant 3D models printed by David Schott. The latter entails making thousands of images of a wreck which are then translated through software into a single, coherent output. For ship aficionados, the models likely have great appeal, but despite their facticity and the enchantment of small replicas, they lack the context and evocative quality of the photographs. Yet as she points out, "What's exciting about producing this is that divers and non-divers can do a virtual dive on the wreck. . . . We can see the wreck in its entirety."
Seeing in entirety is significant: particulates and low light underwater permit viewing only a small area with all else obscured, resulting in a piecemeal understanding. Schott endeavors to light her subjects not merely for visibility, but to best tell their story. For example, two photographs of the Cornelia B. Windiate feature nearly identical angles. In each, focused illumination emphasizes either the ship's wheel or the stern. Schott describes the latter: "It's haunting to see the yawl boat [lifeboat] next to the wreck knowing the crew of nine did not survive." The two images are strikingly different. The Ship's Wheel is golden with glittering hull encrustation, while Lost with All Hands is illuminated in cool blue. These respective color schemes--while comprising the same subject matter and composition--result in radically different emotive qualities and content.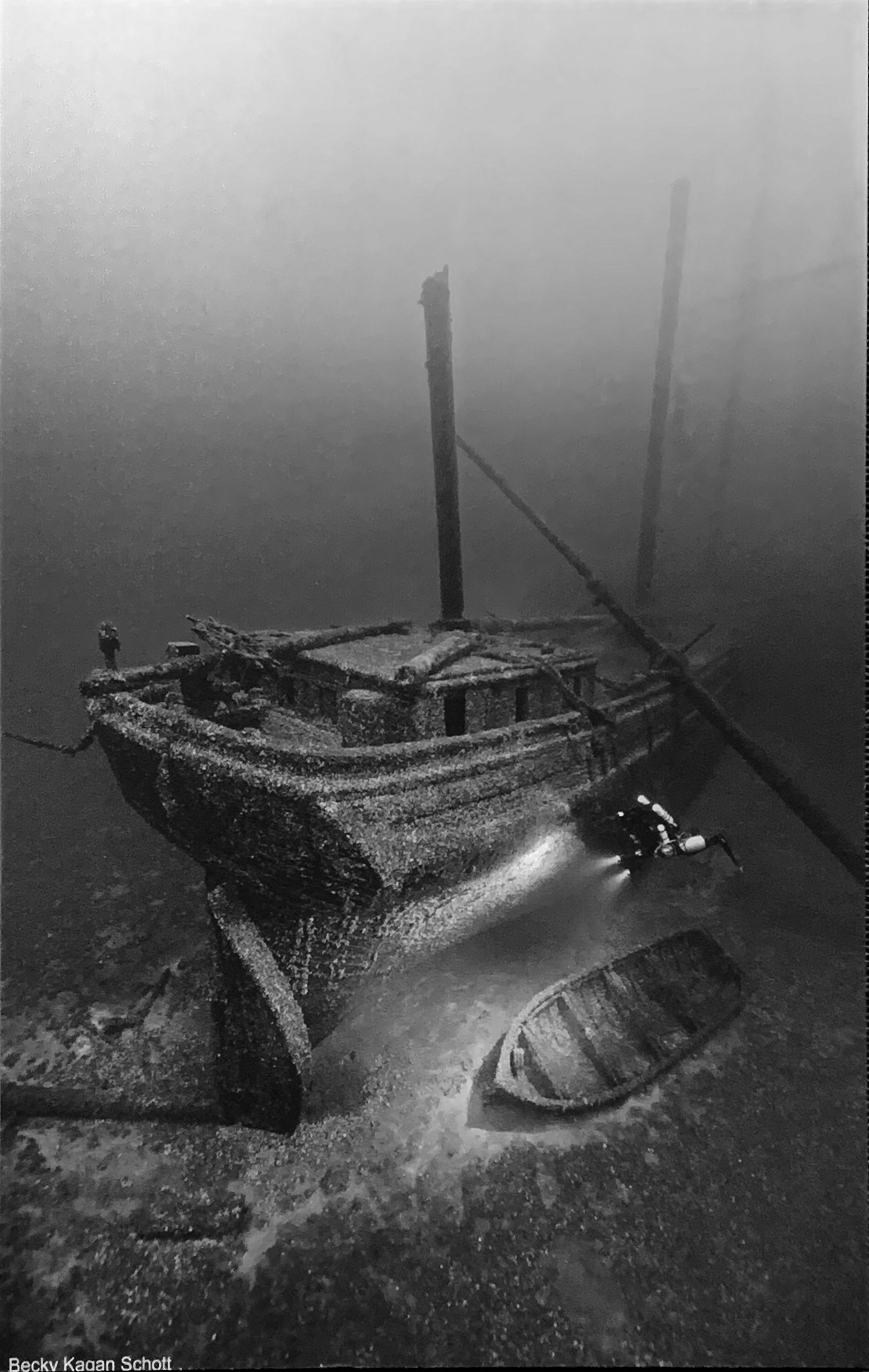 The overall exhibition is awash in tones of saturated blue—as one might expect—but Schott's use of different color temperatures creates a sense of life. This is especially notable in Parlor Room. Schott explains, "The parlor room inside of the Yacht GUNILDA has been in complete darkness for 112 years. I wanted [warm] light to pour through the skylight as if sunlight was shining inside when it was still on the surface. It was a team effort to illuminate the room with over 50,000 lumens of light. . . . When you peer inside the door you can almost see the card games that would have been played at that table."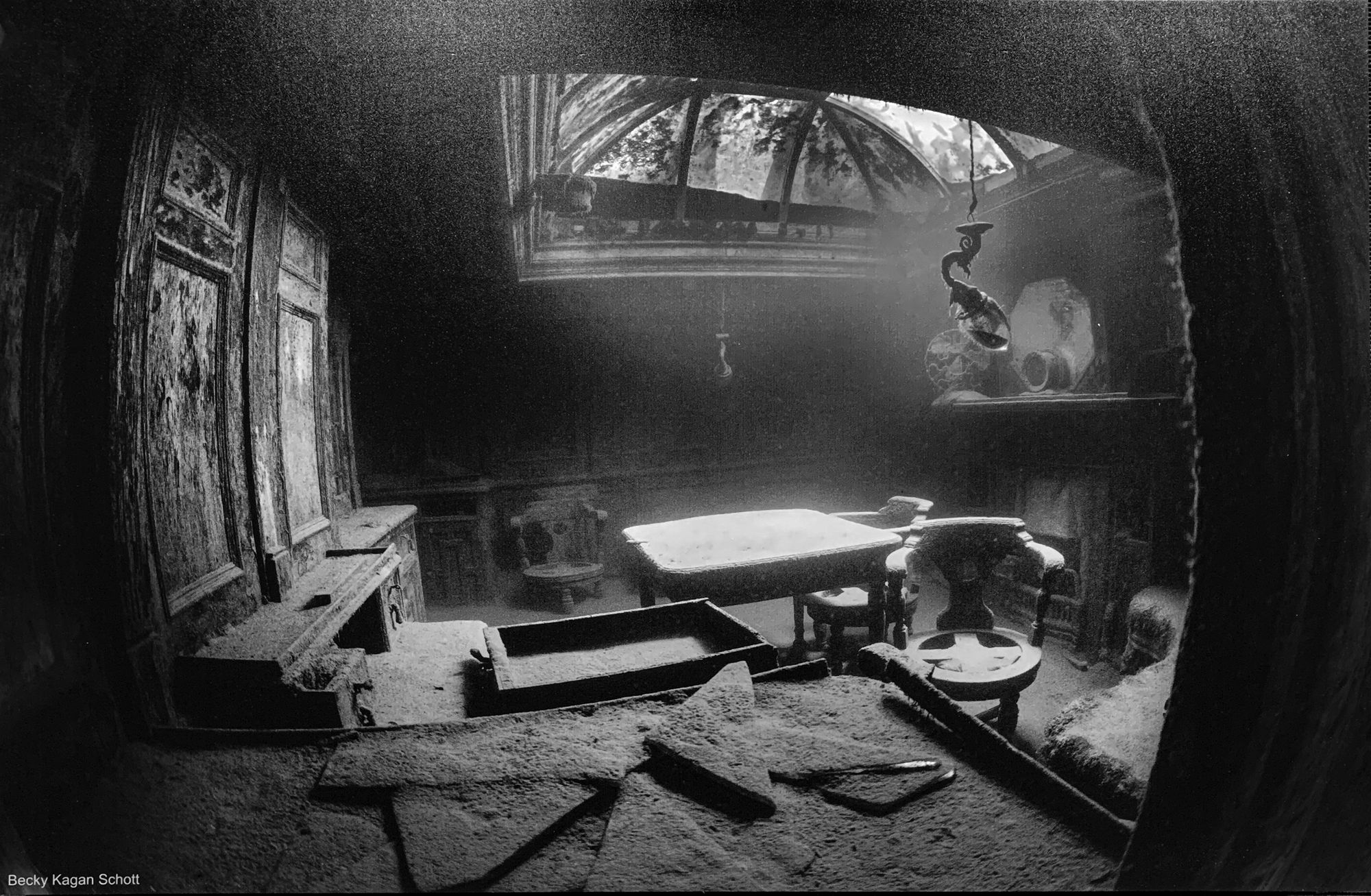 There are eerie signs of human presence amongst the depictions and physical artifacts on display: shoes, a watch, cases of Life Savers candies. These are mirrored by the repeated appearance of divers with lights in the exterior photographs. Rather than disguise the team required for lighting, Schott includes them. Appearing like small aquatic animals, they contribute to the poignance of the images. Similarly, the overall serenity of the images defies the violence of the wrecks.
Becky Schott's journalism background is evident in her engaging commentaries posted amongst the photographs. These notes evince a clear intention not only of capturing a site, but considerations of aesthetics and context. This can be seen in her attention to light, color, texture, and careful compositions which strive not merely to picture but to engage.
As might be expected in a maritime museum, the installation privileges documentation over artistry. While nicely arranged, the packed walls and glare off the photo panels make it difficult to give individual images their due. But the overwhelming cool hues, relatively large photographs, darkened space, and subtle dappled blue light all contribute to a genuine sense of being underwater, echoing Schott's desire to bring the experience to life.
Although apparently narrow in focus, the Maritime Museum actually incorporates aspects of art and material culture, history, science, and other diverse concerns. And for anyone harboring affection for the submarine, there's always the "Stay on the Sub" option of an overnight slumber party--perhaps offering non-divers a small counterpart to Becky Kagan Schott's adventures.
Wisconsin Maritime Museum: https://www.wisconsinmaritime.org/
Becky Kagan Schott/Liquid Productions: https://liquidproductions.com/
Carol Emmons is an installation artist and Professor Emerita of Art at the University of Wisconsin-Green Bay.