Album Review: The Queen is Dead
by Sarah Filzen
The Queen Is Dead by The Smiths is just one of many, many of my life- changing albums. Released in the summer of 1986, it became the soundtrack to a pivotal teenage summer in Appleton. Like many teens, music was central to my and my friends' lives (still is!). I feel this was particularly the case for us growing up in Appleton with Lawrence University quietly at the city's core. Its proximity gave access to affordable quality music lessons from the students and faculty, infusing a high-level of music appreciation and a talent-transfer to Valley kids. Practically all my friends were involved in music at some level.
Because 36 years ago is a bit hazy at this point, the exact circumstances of the record coming into my possession are unclear: I seem to recall receiving it as a birthday present from a couple of my friends in July of '86. But I vividly remember is listening to The Queen Is Dead on repeat at our friend's house near Alicia Park. We were all somewhere between 14 and 17 years old, "alternative" kids before we knew that was a popular word to describe us. Most of us considered ourselves either punks or skaters but our tastes also included new wave, post punk, goth, synthpop, college rock and other genres not heard on commercial radio (though sometimes on Lawrence's college station).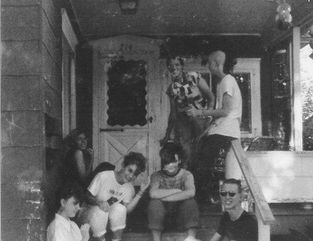 The mix of joy and melancholy that defines The Smiths sound on The Queen Is Dead was perfect for that mid-80's teenage summer: the typical drama and heartache of course, but also in an era where true boredom was real and (retrospectively) relished. We would inspect and dissect the bitingly clever lyrics. "The Boy With the Thorn in His Side," the first single released from the LP, is a perfect Smiths song: a blend of melancholy self-loathing (Morrissey) and upbeat jangly guitar pop (Johnny Marr). Then there's the rollicking, beautifully chaotic title track "The Queen Is Dead:" it is brutally scathing, Morrissey ripping apart the monarchy and ripping apart himself ("Oh, I know you and you cannot sing. I said, That's nothing, you should hear me play piano").
My two favorite songs are "Frankly Mr. Shankly" (another blistering commentary courtesy of Morrissey, this time about the treatment of workers and artists) and "Bigmouth Strikes Again," which is brilliantly jangled and fractured, an unlikely upbeat dance track that references Joan of Arc and a Walkman in the same breath.
"Cemetry Gates" is another top pick, a jaunty song that bounces along to lyrics that decry plagiarism while invoking a blend of a (dreaded) sunny day and the dark sorrow of a cemetery. We actually did go to (and through) the "cemetry" gates, walking all the way from Alicia Park to the cemetery near Peabody Park, another park hangout, likely stopping at Tom's Drive In for fries or Jacob's for candy on the way. Traipsing across Appleton, we'd also often detour to check out the selection at the downtown Exclusive Company or, more likely, New Frontier Record Exchange which had prices more accommodating to broke teens, making a pit stop at Mr. Wilson's to see who was hanging out at the skateshop. Pre-mobile phones, we'd just wander, a bit aimlessly, to see who else was around to join us in those aimless wanderings, looking for connections that were outside the mainstream offerings of the day.
Finally, there is the despondency trio on The Queen Is Dead: "I Know It's Over," "Never Had No One Ever" and the epic "There Is a Light That Never Goes Out." All three provided the backdrop to moments of teenage angst and heartbreak. Yet the overarching essence of The Queen Is Dead to my ears is not depression or even snark (though there certainly is plenty of both!), but rather a glorious celebration of life, with all its ridiculousness, pettiness, beauty and diversity: much like the summer of '86.
The Queen Is Dead went to #2 on the UK charts and made it to #70 in the US. The UK publication NME rates it, year after year, the Greatest Album of All Time so I am hardly alone in my intense fondness for The Smiths' masterpiece.