The Vagaries of Public Art
by Cynthia Hadzi
Contrary to the understanding of many viewers, seemingly enduring public art can be neglected and unmaintained, moved from the specific site for which it was designed, or, in some cases, destroyed. The permanence of such art—even when fabricated in bronze, metal, or stone, is too often illusionary before the forces of change and capital development.  Such a threat hangs over a work of public art in the city of Appleton, Wisconsin.
Dimitri Hadzi devoted a significant portion of his four-decade career as a sculptor to the creation of major works of public art that countless citizens view —for example in Rome, Italy; in Cambridge and Boston, Massachusetts, for the Massachusetts Institute of Technology and the Federal Office Building; in New York City for Lincoln Center;  in San Francisco at the Embarcadero Center;  in Portland, Oregon, at the Federal Office Building; in Dallas before the I.M. Pei building;  in Toledo, Ohio, a forty-foot-high granite fountain at Owens-Illinois;  and in Appleton, Wisconsin, at the entrance to the city.  Some of Hadzi's greatest achievements survive untouched and unthreatened, as with the splendid ecumenical bronze doors he created for the entrance to the only Protestant church in Rome, St. Paul's Within-the-Walls. During one of the artist's proudest moments, these doors were dedicated in 1976 by the Archbishop of Canterbury and the Pope's representative, Cardinal Willebrands. Made for a historic church adorned with mosaics and frescos by the Pre-Raphaelites, the doors appear unlikely to be demolished for commercial purposes, as has been the case with other less fortunate works.
But in 2014, Hadzi's centerpiece for Harvard Square, Cambridge, a twenty-foot-high mixed-granites "Omphalos", commissioned by the MBTA in 1985, was removed, because of deferred maintenance by the owners, even after occasional repairs by the artist.  A plan for its much-needed restoration, and reinstallation by a private developer in Rockport, Massachusetts, seems thwarted, for this work, seven years after it was removed from its original site, remains in storage.
The vagaries of public art continue. A further Hadzi sculptural installation, comprised as a group made up of basalt stone both polished and natural, was designed for a site in Eugene, Oregon. Until then the artist had been working solely in bronze; however, for this commission he turned to a local material. The completed work was specifically designed for a parkland area close to the Willamette River, and remained on that site for two decades. However, it, too, was subsequently moved—although there is currently good news of a plan to return it to its original site. Such losses to art lovers continue. A granite work commissioned by the General Services Administration outside the courthouse in Birmingham, Alabama, is also in storage.  But the reason for this removal was a protest by a State Representative, who claimed (as documented in the press at the time) that the work was a security risk: "a person could hide behind the sculpture and shoot at people as they entered the building." Despite a rigorous defense in federal court to keep the work on the site for which it was commissioned and created, the protest was successful, and the work remains hidden from the public. The General Services Administration of the Government continues to search for a new suitable site—but has rejected an offer from the Museum of Art in Birmingham to give the Hadzi sculpture a new home.
Another distressing story of aesthetic loss surrounds the removal of a thirty-foot-high Hadzi sculptural fountain in Copley Place, Boston, Massachusetts. That work was a relief, comprising mixed marble and travertine, with a central water element.  Working closely for this site-specific art installation with the architects of the new development, Hadzi spent months in Italian quarries with artisans in Carrara and Pietrasanta to choose the many hues of stone he needed from quarries around the world. The completed sculpture was a huge success with the public and was included in untold numbers of celebratory photographs. However, thirty years later new architects and developers determined that an extension to the Copley Place shops and offices was essential, and to make space for these changes they determined that the artwork must go.  Despite public dismay, no consideration was given to the value of public art in Boston. In 2017 Hadzi's fountain sculpture was destroyed, along with the benches that had been installed for the public's rest and contemplation before it. The art was replaced by a group of very high-end stores, and some offices. As a result, passers-by no longer stop to sit and enjoy the water and the artwork— and to photograph their lives. There is, in fact, no joy in photographing a graduation or wedding celebration in front of empty retail shops. Boston had lost both a space for aesthetic contemplation and for celebration.
Today yet another major Hadzi public art project may be in jeopardy, this time in the City of Appleton, Wisconsin. This work of local limestone/dolomite was situated in an open, grassy space at the entrance to the city, but where construction and development is now being considered. This Appleton sculpture is one of Hadzi's most successful works, and in creating it he spent time with the artisans at nearby quarries as he selected the stone and developed a particular interest in the area and for its workers. After years developing funding and gathering local support, the community witnessed the dedication of a sculptural work Hadzi named "Fox River Oracle" to honor the local geography. Recognizing the artist's significant contribution to the area, Lawrence University honored him with a degree of Doctor of Arts.  Since he was Professor of the Visual Arts at Harvard University, it was with great pride (and cheers from his students!) that Dimitri Hadzi wore his doctoral cap from Lawrence to Harvard's annual Commencement for the rest of his life.
-CH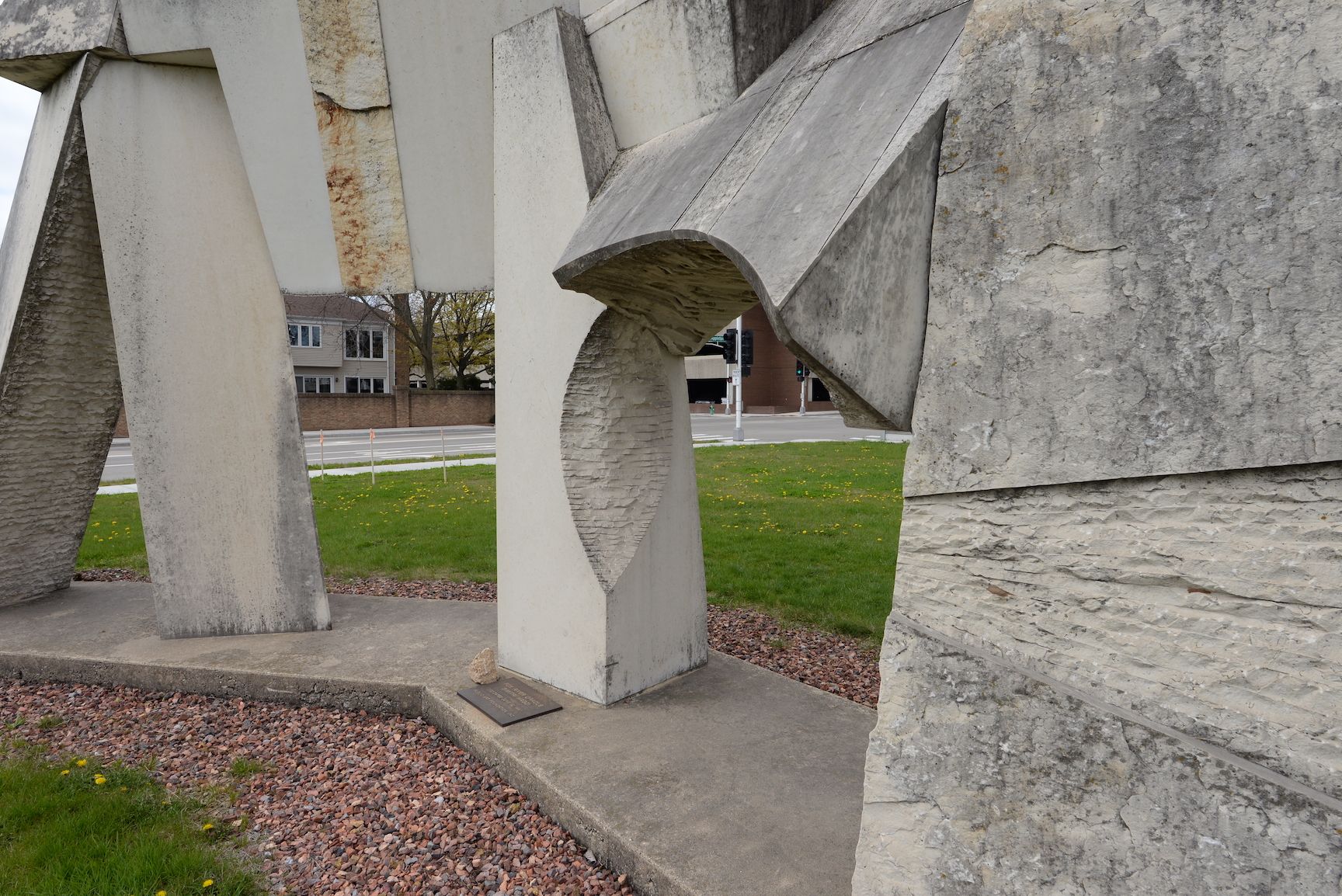 ---
Dimitri Hadzi passed away in 2006, at the age of 85. This editorial was written by Cynthia Hadzi, his spouse, in 2021. It was sent to Alex Schultz, Executive Director of Sculpture Valley, an organization whose main concern is the preservation and promotion of public sculpture in Appleton, Wis. fsm. is glad to be able to publish this editorial.
The preservation of public artworks is important, as they are often pieces that help define a community. While there may be differences in opinion on the aesthetic qualities of a piece, and the Appleton Hadzi sculpture has been met with both love and derision even before its installation, these works are often created to make a communal space for art in our lives. The artists of these public works have developed pieces that play off of the geographies of where they are installed--both physical and human. They are part of our collective home.
More information about the work of Dimitri Hadzi can be found at this website. Information about Sculpture Valley can be found here.