by Bill Wetzel
The City of Appleton and Appleton Downtown, Inc. (ADI) has a wonderful history of supporting the arts in its many forms. To name just a few, The Trout Museum, the many fantastic murals, Mielke Foundation electrical box wraps, Sculpture Valley, and the Mile Of Music (thank you Dave and MOM Team) bring an unexpected richness to our living experience here in the Fox Cities and northeast Wisconsin.
ACOCA Café and Roastery has always supported the arts and continues to support many forms of art. We are a café that hosts our Artist's Wall (and our Artist's Wall Collection). We also host Poetry Unlocked for the power of the spoken word. Most of these are indoor events.
When we decided to expand and remodel in 2020, we wanted to take our "art" and the power that is color, outdoors. Thus, we have the ACOCA Pimento and ACOCA Avocado colors that adorn our exterior walls. There were still many walls left unattended and in need of some love.
In 2021, we wanted to participate in the ADI event for window painting. Serendipity can play such an important role in our lives if we let it. We asked for an artist to be assigned and Kim Jochman was our person. As an art teacher, Kim has "some" painting skills. She did a wonderful bee mural and we were sad to see it rain, eventually washing away her stunning efforts…….beauty can be so ephemeral.
In 2022, we asked Kim to do another mural. Always game for a challenge, Kim said yes, but this year her efforts needed a little aid as she was coming off a stem cell transplant to treat multiple myeloma. Kim solicited help from Trevor Baemmert. Trevor was a former art student Kim taught when Trevor was 13. The pupil was now becoming a peer. Their mural was another stellar effort with images of people drinking coffee across all of our College Ave windows.
For 2023 we wanted to make the art more external and more permanent. Thus, we decided to do an outside mural on the wall facing the Performing Arts Center, along Walnut St. Not everyone would see it, yet those who might (like our good friends at the PAC), hopefully, would find power in the bright colors and the positive message. Selecting Kim was an easy choice as she is so talented and she was regaining her strength, ready to climb (literally) a new summit.
My mural idea simply, albeit prosaically, was a rainbow with empowering words throughout. In each vowel, I envisioned faces representing the diaspora that is our world. Thankfully, Kim and Trevor, using their unique artistic styles, could convert my vision into reality. They collaborated and deepened their peer-to-peer working relationship and, more importantly, their friendship.
The process for painting the mural was challenging due to its location on our building. Kim and Trevor nearly had to employ parkour techniques to get themselves up to the wall. Once there, their creative instincts began to percolate (pun intended) and the design you see today was born. Please come check it out for yourself. We hope it resonates with you, as much as it does with us.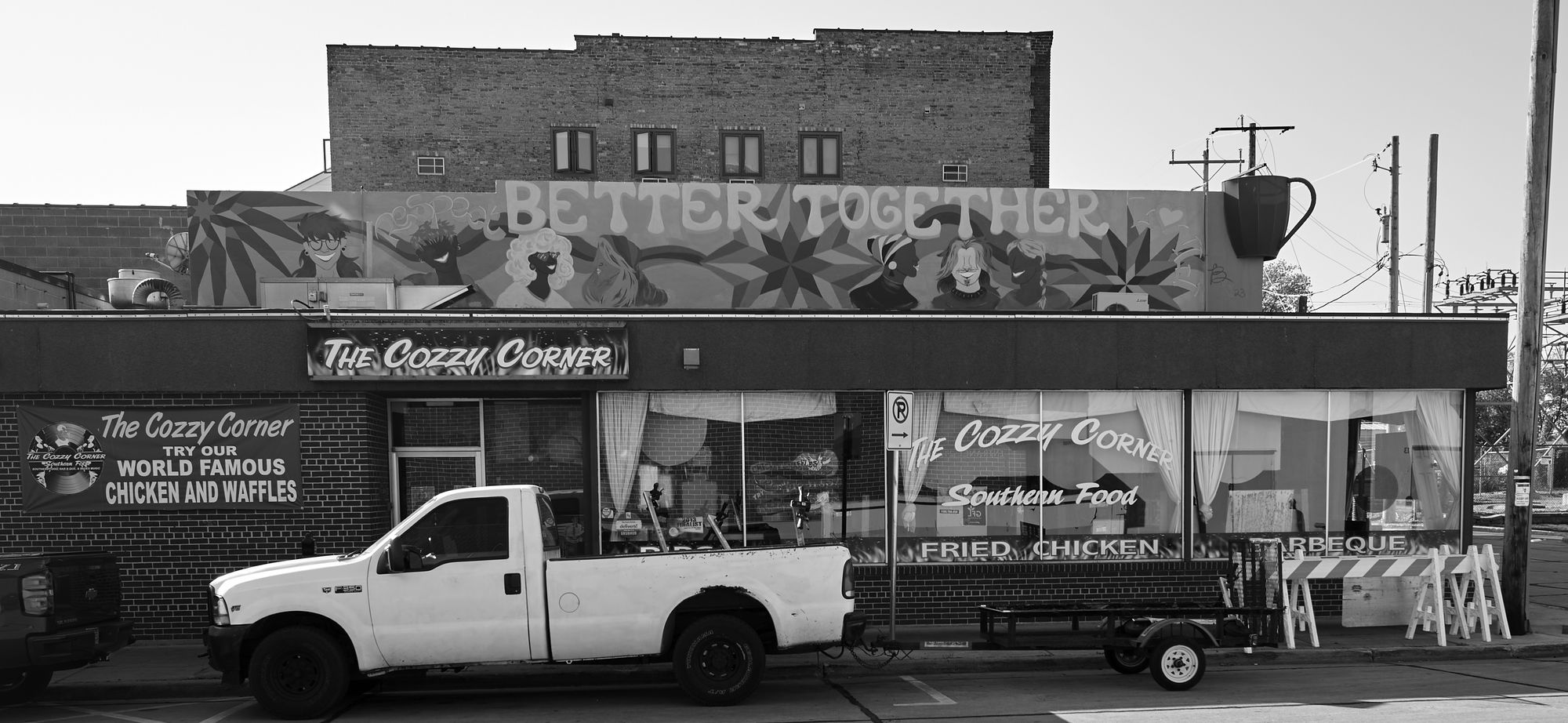 ---
Bill Wetzel is the owner of ACOCA Café and Roastery, Appleton, and a strong community supporter.
                       Art is not a privilege.