Highlights from the TMA Contemporary Exhibition at the Trout Museum of Art
By Isabel Dorn
The annual TMA Contemporary exhibition, which showcases modern art from all
over Wisconsin, is currently on display at the Trout Museum of Art in downtown
Appleton. This year, the gallery features 112 works including paintings, sculpture,
textile, metalwork, mixed-media art, and more. The exhibition opened on June 10
and will remain open to the public until August 13, 2023.

Nestled casually amongst the coffee shops, boutiques, and restaurants of College
Avenue, the Trout is Appleton's hidden treasure trove for fine art. Visitors enter
through a cheerful but unassuming gift shop that belies the breathtaking exhibition rooms, including the gleaming white three-story gallery that houses the TMA Contemporary exhibition.

Just beyond the entrance hangs CC003, a net handcrafted from hand-dyed wool by
Thom Romero of Delevan, WI. The colors blur seamlessly from brilliant scarlet to
golden yellow and deep navy, and the vibrant yet peaceful palette provides striking
contrast to the fabric's rich texture, taking the eye on a three-dimensional journey.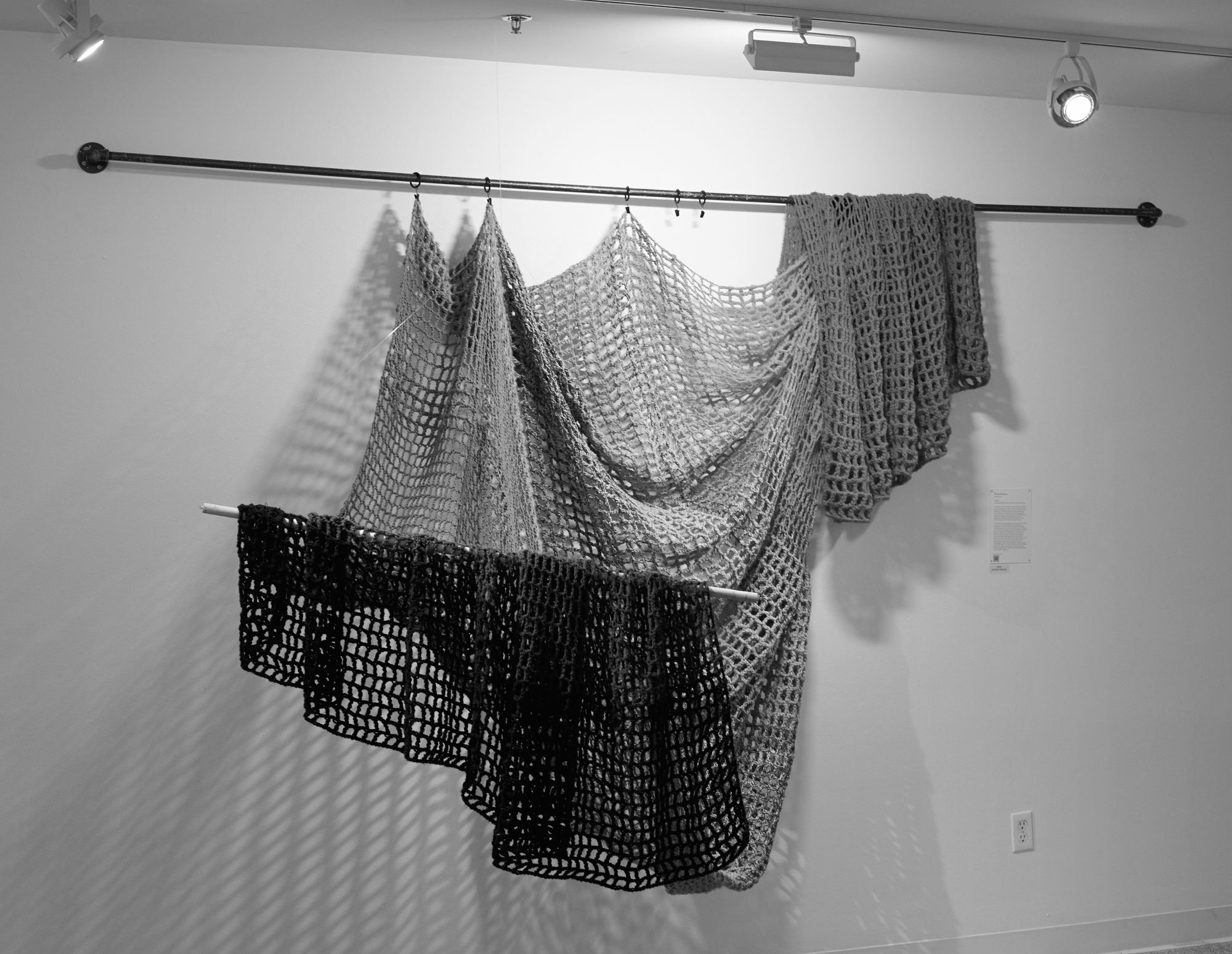 Clean Me Up by Madison's Cate O'Connell-Richards uses five brooms bound in
yellow chains to explore themes of oppression and ostracization. The piece frames
brooms as symbols of both domestic labor and witchcraft—both of which were
weaponized against marginalized people.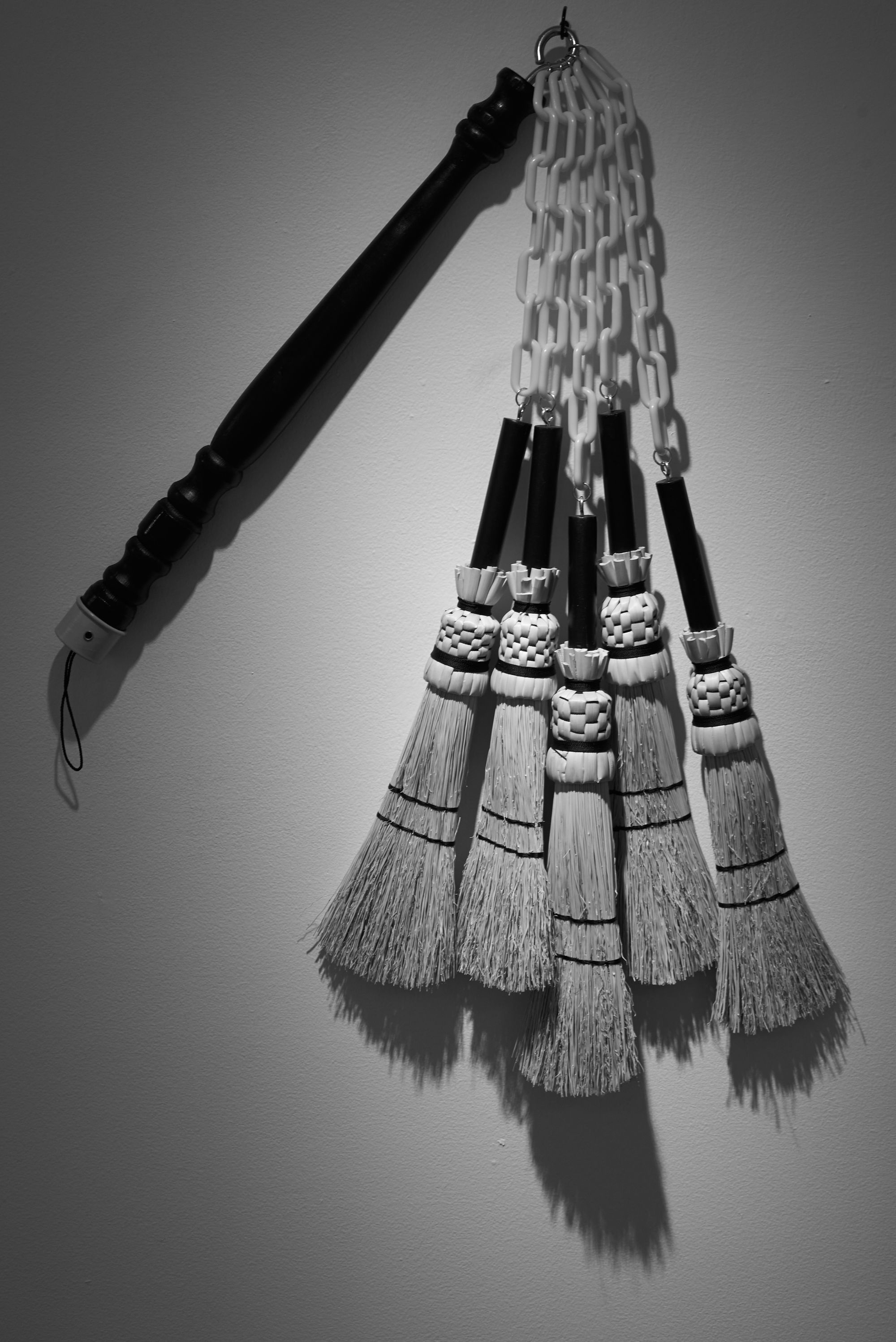 Beth Schueffner of Neenah juxtaposes serene images and troubling themes in the
painting The Most Sacred Part of Her, Her Awareness. Although the luminous
naked figure lying in tall grass initially resembles a Classical goddess lounging in
indulgence, the painting's lush imagery was actually inspired by Schueffner's notes
from therapy sessions and experiences with panic disorder, anxiety, and OCD.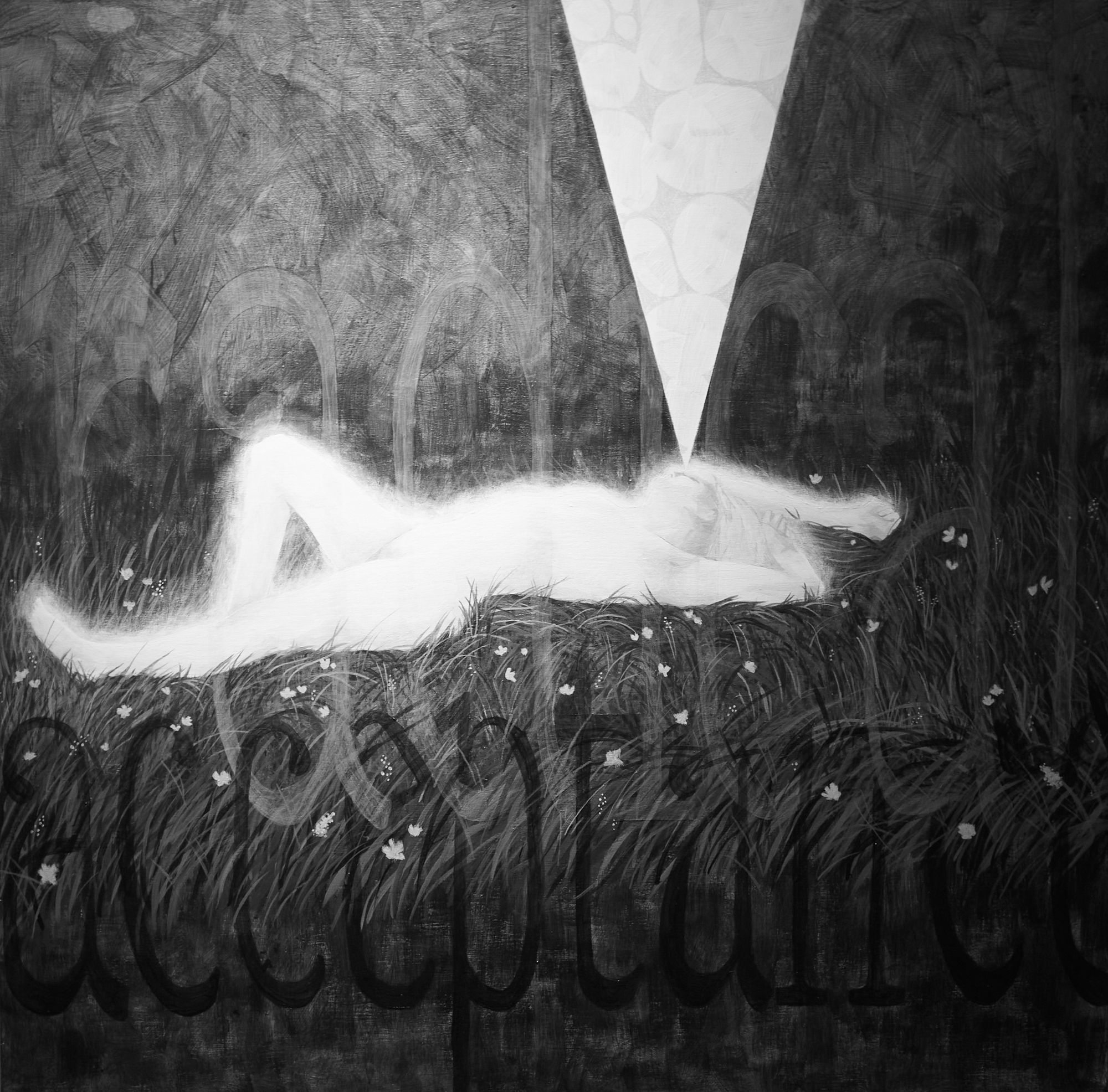 At the center of the first floor stands Thoughts and Prayers, a haunting plaster
sculpture by Milwaukee's Callie Kiesow. A veiled figure in white kneels before
seven sculpted pistols arranged in the shape of a cross, a chilling condemnation of
society's complicity towards gun violence. The sculpture absorbs the room's elegant pillars, grand staircase, and high ceilings into its aesthetic, giving the Trout's entire lower level the solemn, eerie atmosphere of a monument.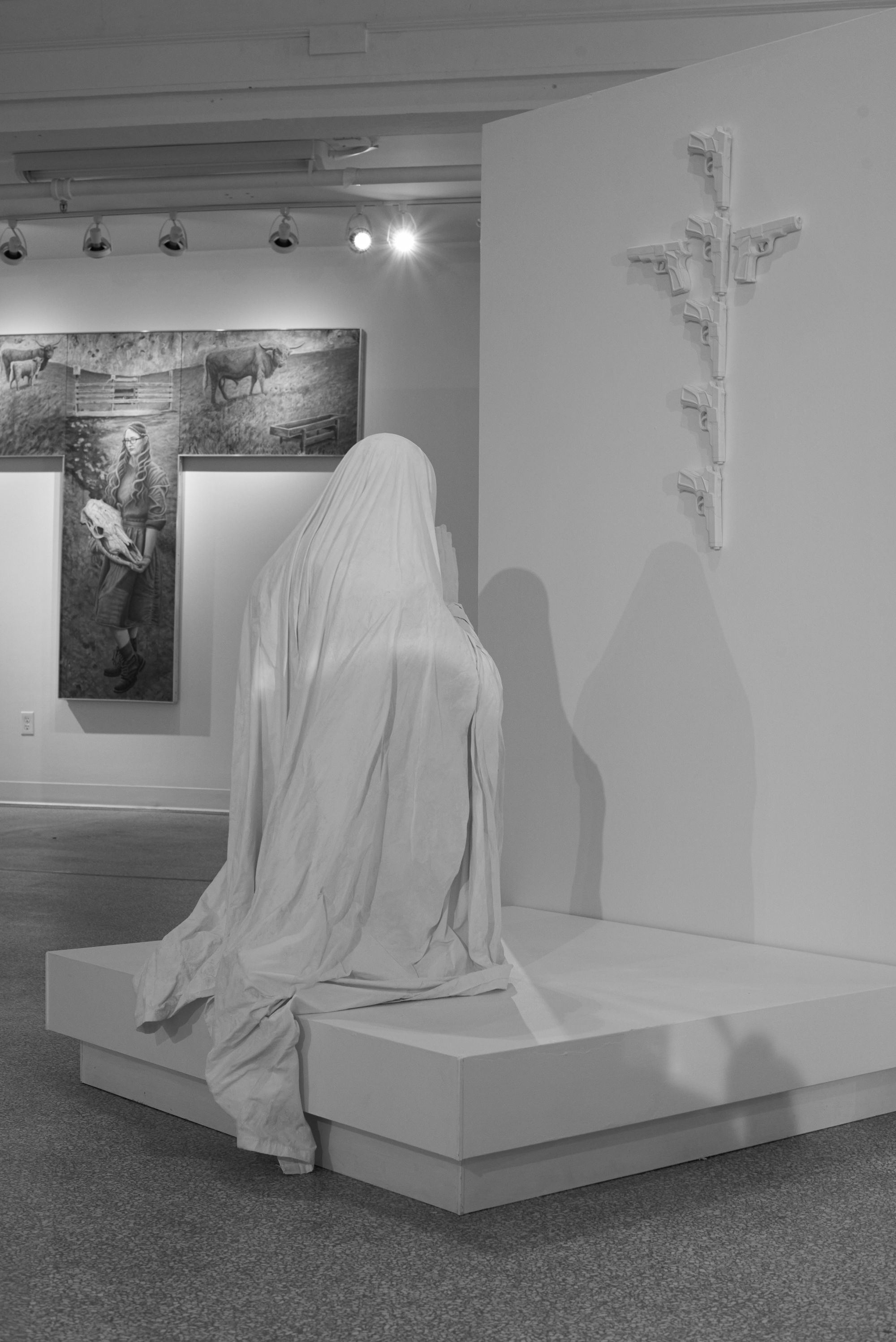 Behind this statue sprawls Ellison Women, a series of 20 cyanotype prints by
Allison Calteux of South Milwaukee. Archived 35mm photographs of women from
Calteux's family appear against a backdrop of vintage deep blue doilies of varying
sizes and designs, resembling an exquisite cluster of stars.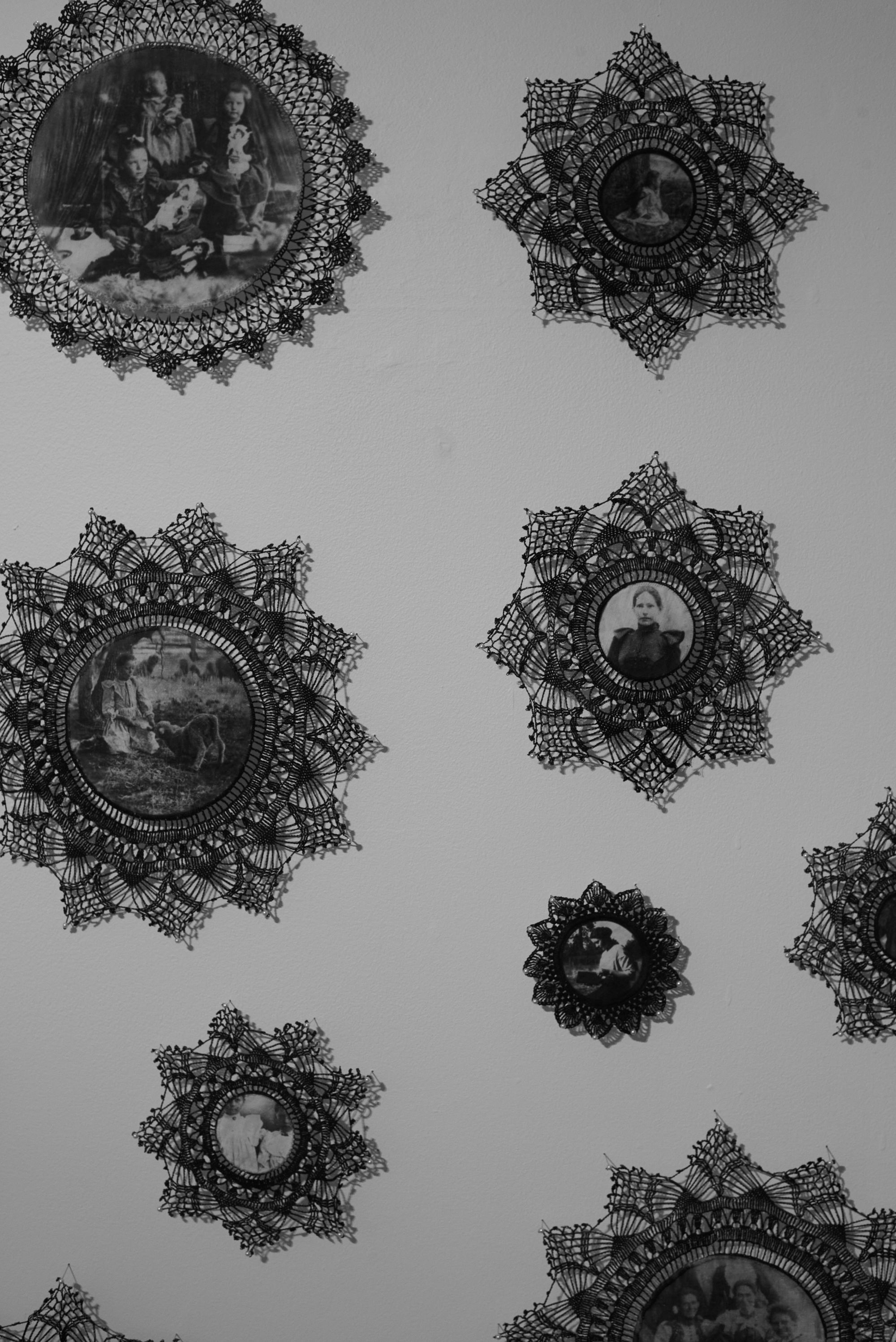 Two relief ink blocks by Green Bay's Alora Clark—Meal Prep and A Place of
Uncanny Scarlet—draw the viewer into a dizzying world drawn completely in
black, white, and red. The block on the left shows a cadaver being sliced into pieces
of meat for cooking, while the block on the right features a frightful room complete
with a skeleton, a floor covered in eyes, and a bookshelf that leaks blood. Despite
the gruesome horror-film themes, the eye-catching, slightly cartoonish style lends
these works a cheeky, satirical tone.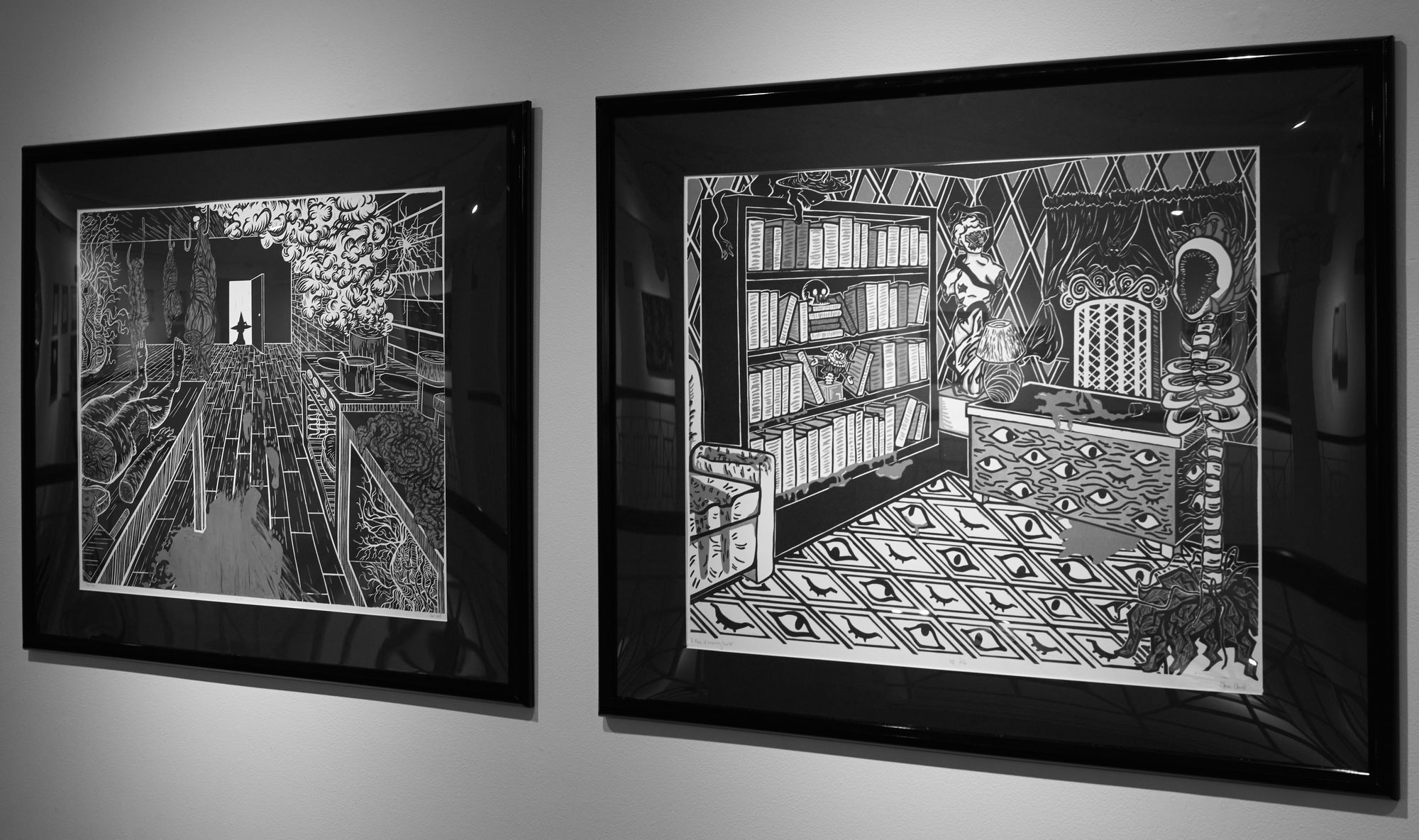 As viewers ascend the staircase to the second level, they approach a wall of
intricate pop-up books depicting Appleton artist Benjamin Rinehart's 7 Hopes for
Humanity: access to food, shelter and water; universal healthcare; mental and
emotional support for people experiencing hardships; equality for marginalized
communities; accountability and reparations for society's previous failures;
healthier and more sustainable interactions between humans and the planet; and
love for both oneself and others. Each book portrays utopian ideals in simple, eye-
catching three-dimensional cutouts.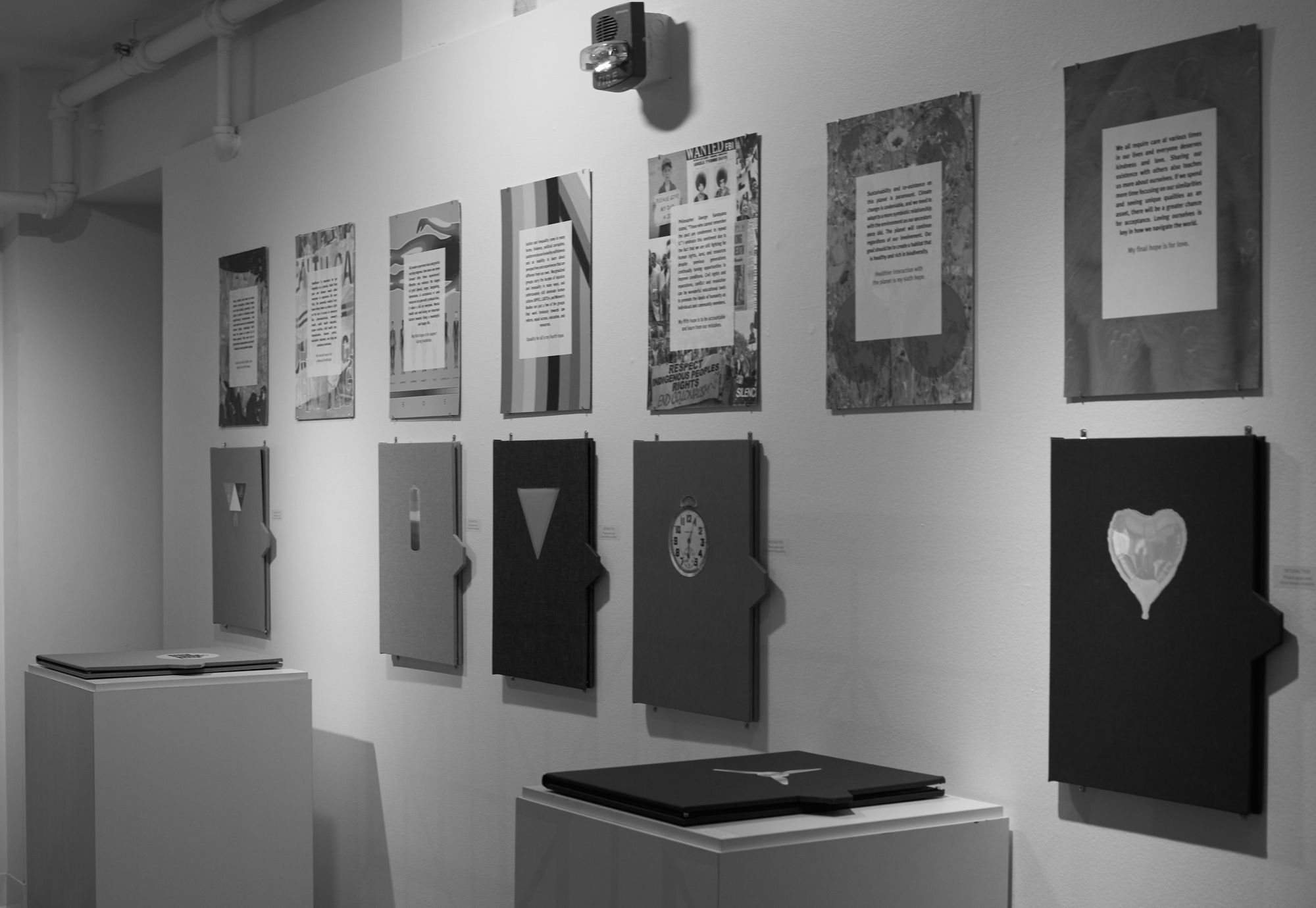 No Means No, created by a Madison artist using the pseudonym Spooky Boobs,
proclaims the importance of consent with an eye-catching poster of a multicolored,
geometric rose and the words "No Means No and Other Things We Shouldn't Have
to Say Twice". The rose's petals are a series of layered octagons, resembling a pile
of stop signs. Beneath the poster lie colorful tiles that are similarly shaped like stop
signs, which bear the word no in a variety of languages. The work's bold colors are
cheerful yet dynamic, creating a powerful statement against sexual violence.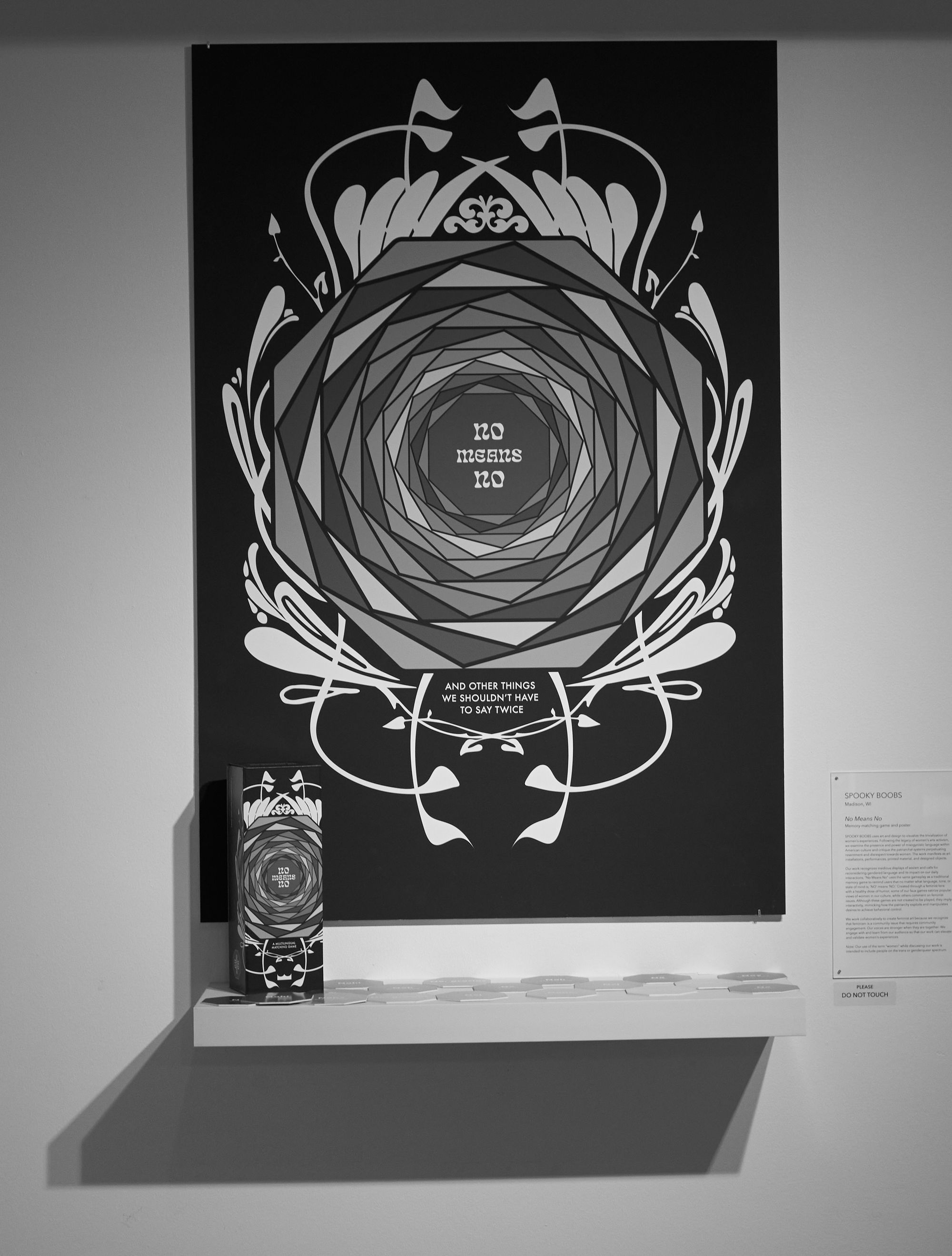 One of the most peculiar yet thought-provoking works is Milwaukee artist Molly
Brennan's jewelry, titled Pay Attention; Get Some Rest; Stay Regular; Get
Happy; and Painless. The set consists of three necklaces and two rings, each made
of sterling silver. At the heart of each piece lies a cluster of pills trapped in resin—
Adderall, sleeping aids, fluoxetine, gabapentin, and even stool softener. Through
this ironic yet relatable piece, Brennan provides a visual representation of how
medication interacts with the human body and mind and the narratives we craft
surrounding personal health.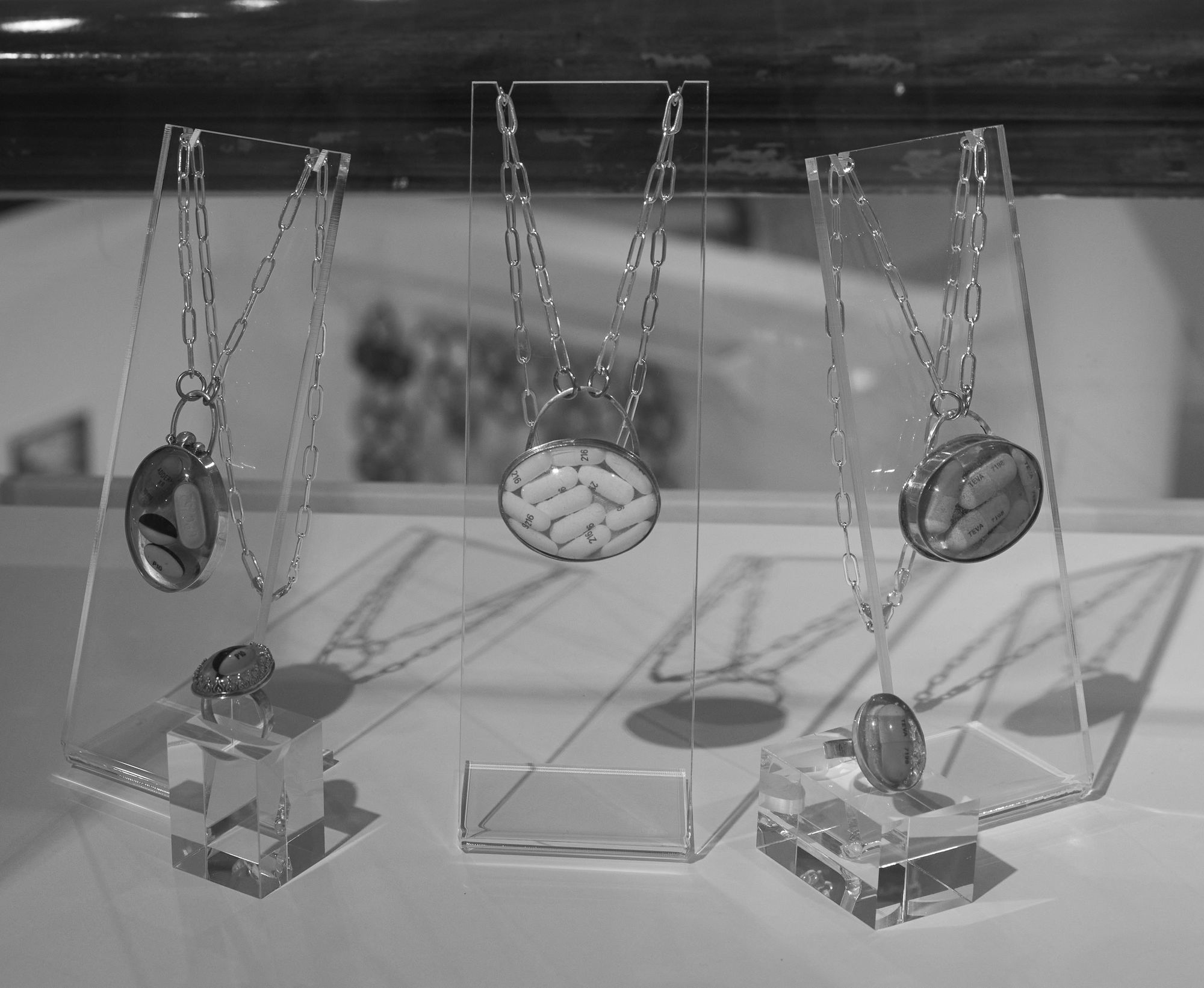 Nora Murphy of Milwaukee blends stunning film photography and avant-garde mixed-media printmaking in two works collectively titled Excess. On the left, a simple yet elegant black-and-white photograph depicts a faceless person pinching the flesh under their arm. On the right, Murphy uses an old recipe as material for blackout poetry, crossing out every line until only three words remain legible: "Trim excess fat". Together, these pieces address the relationship between food and the body, explaining that humans' dissatisfaction with their bodies often causes them to see food as an obstacle to weight loss rather than a source of nourishment.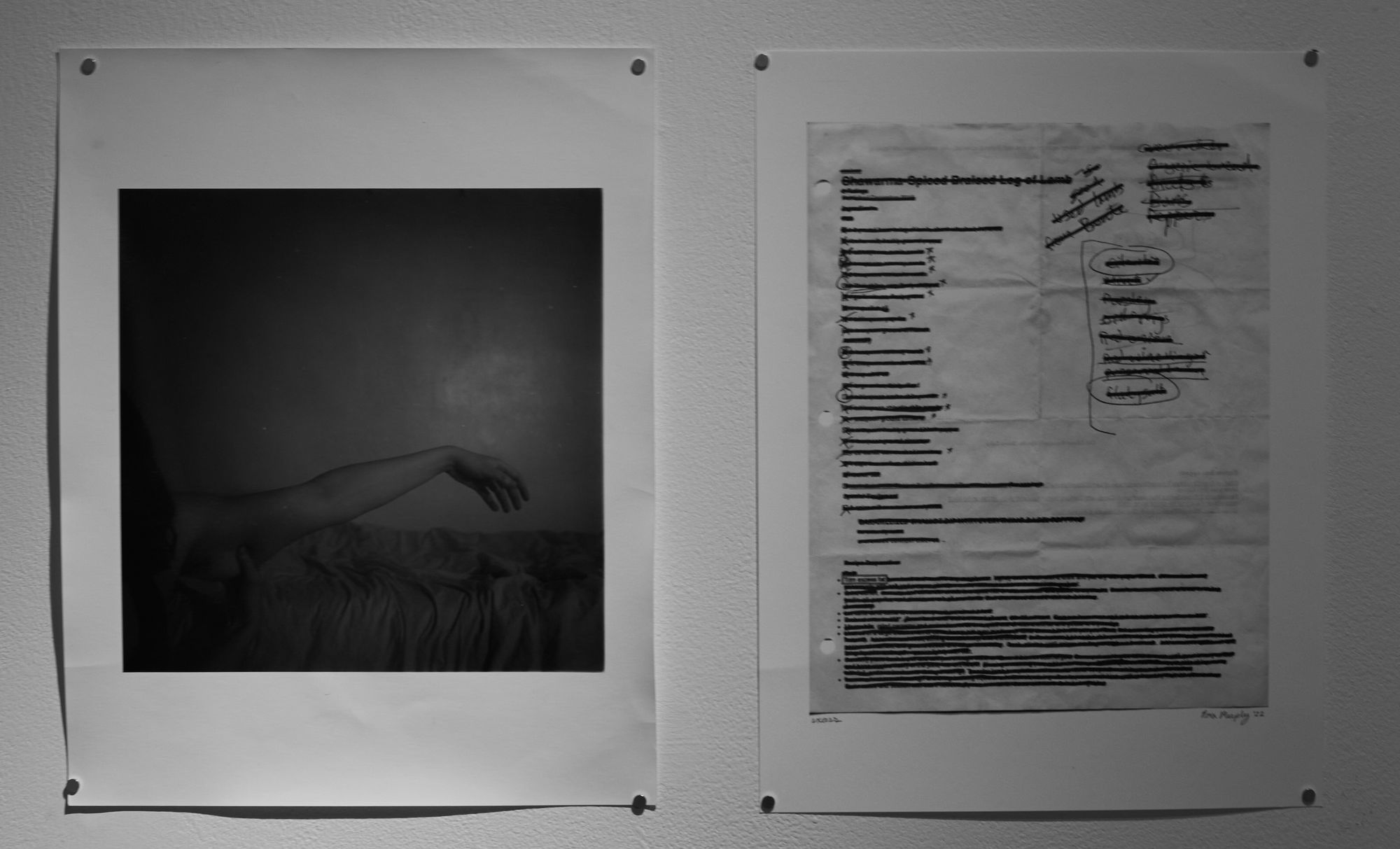 With over 100 works of Wisconsin's finest art, it's impossible to encapsulate all the beautiful, unique, and thought-provoking jewels of the TMA Contemporary. I hope visitors will explore these works for themselves and find something inspiring within this diverse collection.
TMA Contemporary
June 10th—August 13th, 2023
Trout Museum of Art
111 W. College Ave., Appleton, WI 54911