Exhibition Review: [un]Certain Futures at newARTSpace April 14–May 20, 2023
by Carol Emmons
This sensitively installed exhibition features the work of the Environmental Photographers Collective, comprised of six artists of national stature "who all create work focused on environmental concerns...and the transition to a post human centered world."
"Environmental photography" might evoke pretty landscapes or, conversely, grim scenes of devastation. These works do variously celebrate nature and call attention to disruption, but in far more subtle and complex ways, and through diverse approaches.
The rows of works by Martina Shenal feature different sites varying by hue. A precipitous topography veiled in haze recalls the clouded mountains of Chinese painting. Here the effect is less romantic, with scrubby vegetation amidst human interventions. She notes that wildfires temporarily made Oregon air quality the most hazardous in the world, rendering these images more ominous. Similarly, the lush greens of a seemingly primeval forest ultimately reveal human intrusion via an abruptly truncated stump. This closer investigation underscores Shenal's intent: her series 20/20 (notes on visibility) addresses "sight, and more specifically, the ability to see."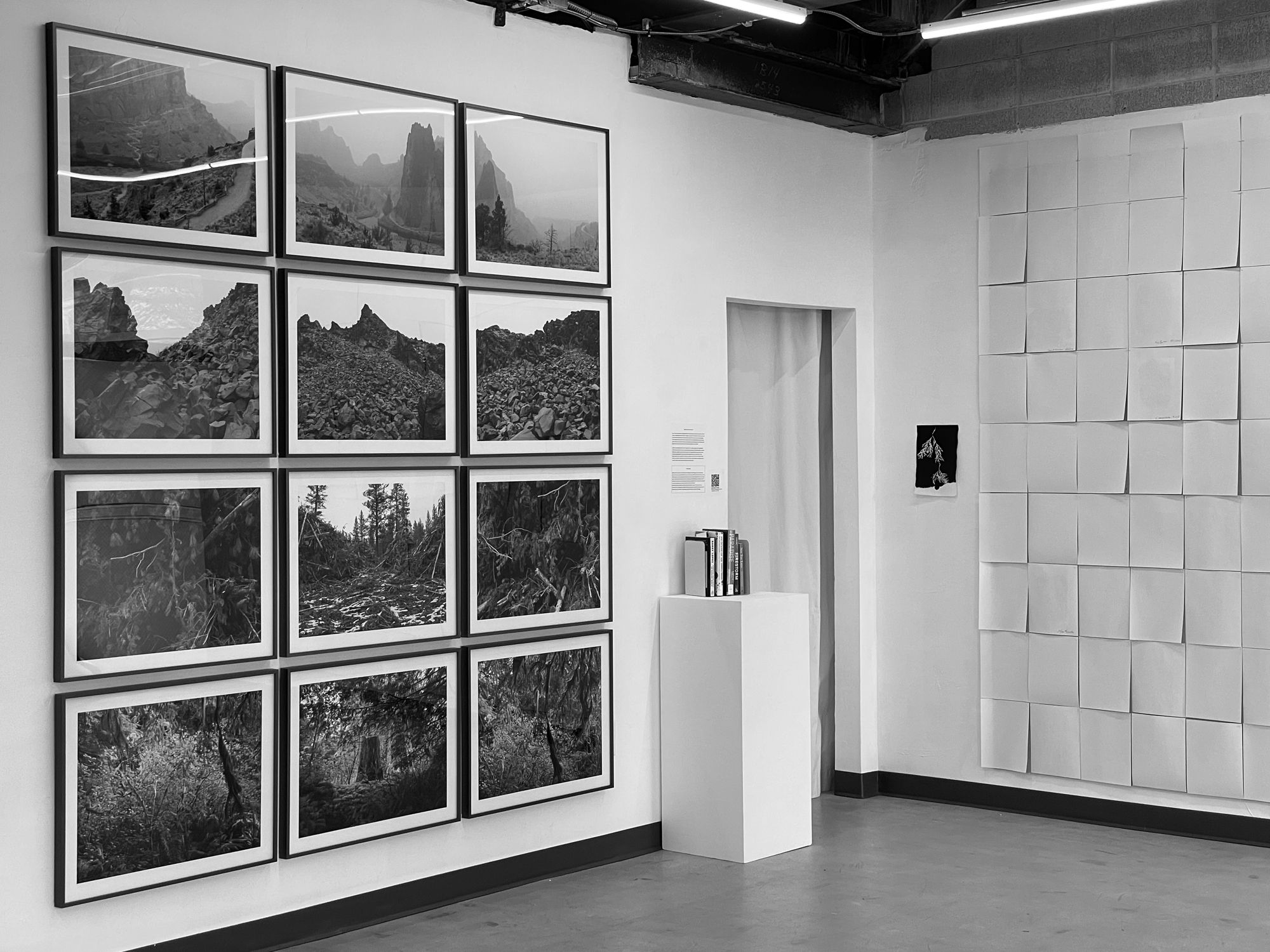 In her Field Guide to a Hybrid Landscape, Dana Fritz also utilizes straightforward photographs. She documents the cycle of seeding through planting in the Platte River Basin National Forests, with image cropping that often generates an effect of endless extension. She also presents an intimately scaled accordion book which produces variable juxtapositions of images. Completely unfolded, the book recalls a filmic sequence. However, shifts in scale and subject do not create a linear narrative but offer glimpses into repetitions of growth and loss, and the ongoing necessity for maintenance.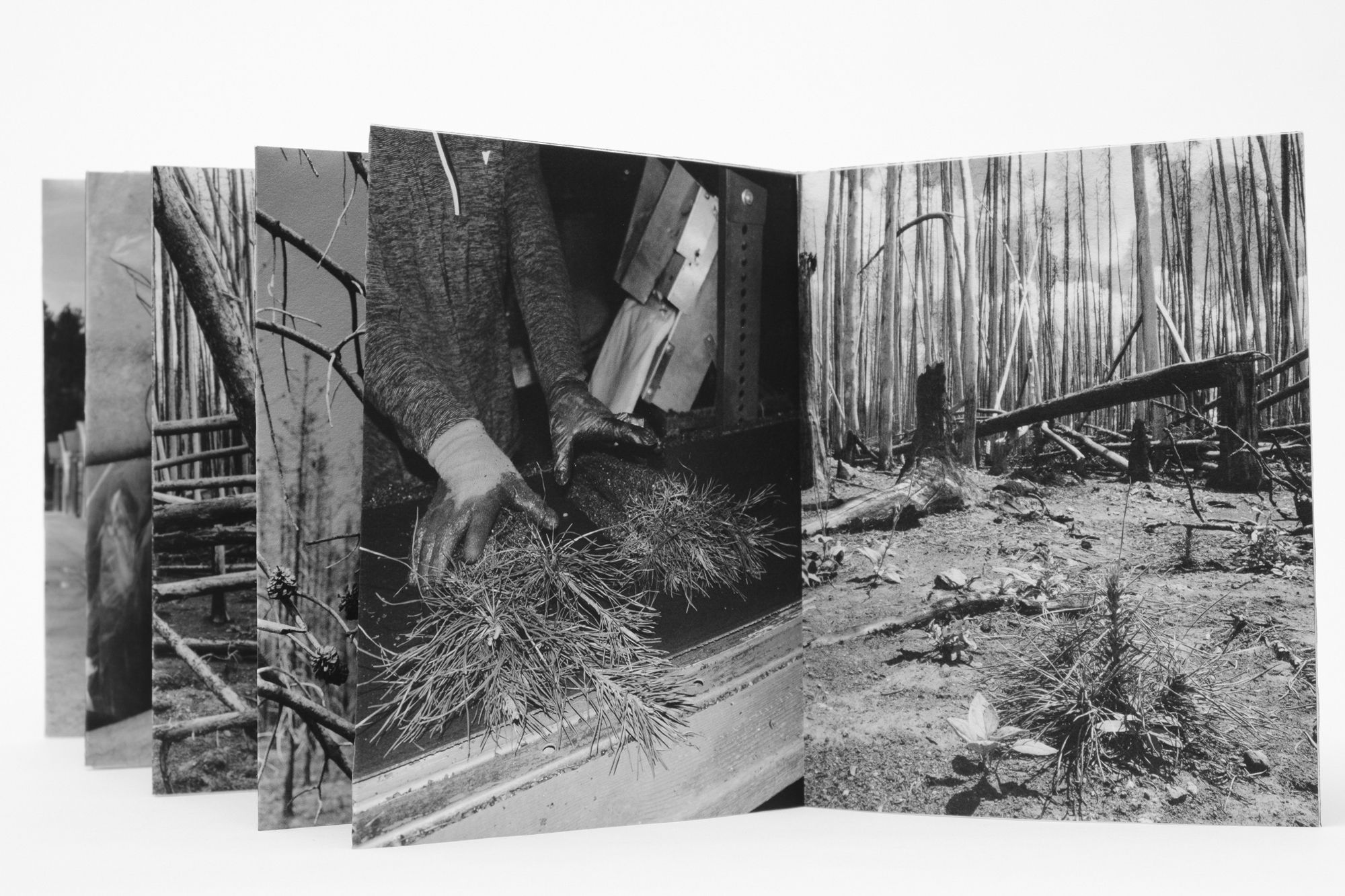 Marion Belanger intersperses small images of Braille references amongst large "glitched" landscape prints. The series reflects walking the forest during the pandemic and time spent with her sight-impaired grandchild. The "failures" in the prints conjure not only damage done to wild places, but an alternative mode of looking and valuing, perhaps making suspect our reliance on depictions as a way of knowing. Belanger refers to the series as a lament, and apropos the convention of lamentation paintings as vehicles for contemplation and empathy, this series forges a compelling extension of that tradition.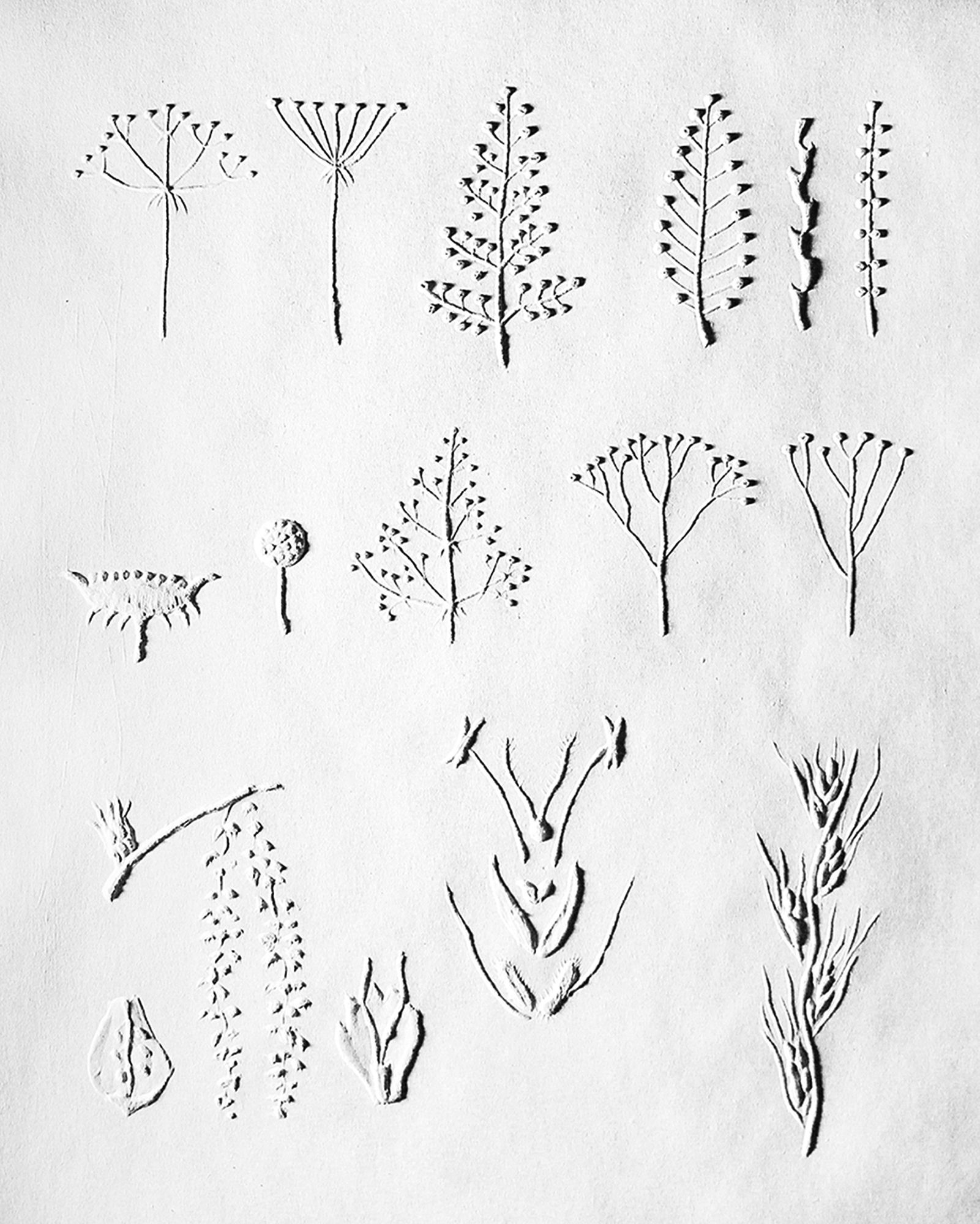 Coastal areas of the eastern seaboard constitute the focus of Margaret LeJeune's works. She employs techniques including photomontage and salted paper prints with seawater from the site. These images layer both natural forms and intellectualized structures like maps and graphs. In Overlay the ground plane of a forest decimated by intruding salt water is comprised of a vintage map with its ruptured top edge constituting the profile of the ghost trees. The generally warm tone of the prints recalls the acidified paper of old documents, implying a long history of human attempts at engaging the natural world.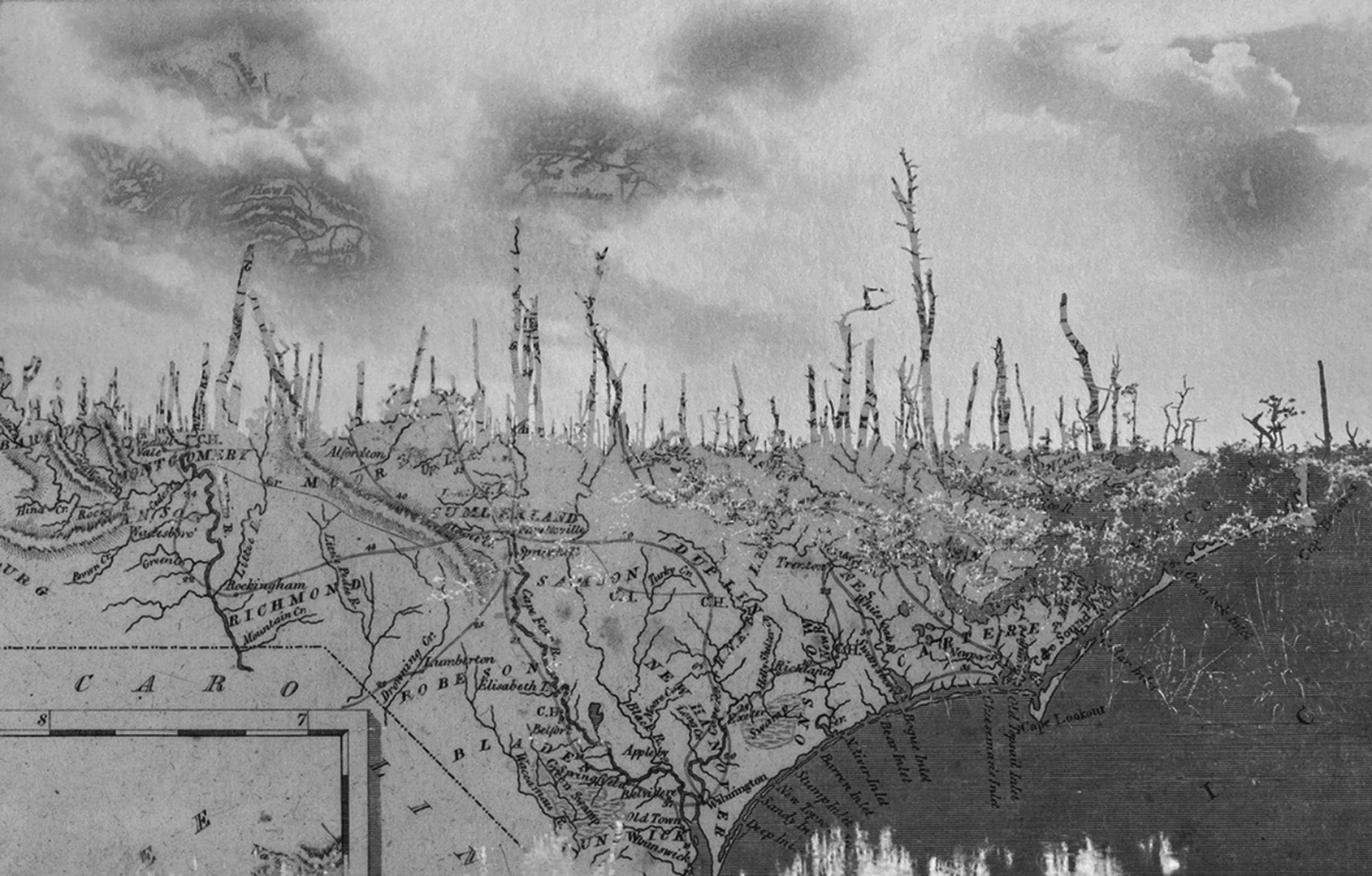 Diversity also distinguishes Judy Natal's The Weather Diaries. Including video, hand knit panels, audio, and ink jet prints, she investigates climate change in island locales. Elements include portraits of the "walking knitters" of the Faroe Islands, accompanied by knitted environmental slogans. In her video The Custodian, a woman dressed in white sweeps a glacier with a red-bristled broom. Even after the woman exits the frame, the sweeping sound continues, emphasizing the extent of her task. Reminiscent of Mierle Laderman Ukeles' "maintenance art" performances, there is both humor and pathos here; the enormity of environmental degradation is buoyed by the suggestion that even constrained individuals can make a contribution.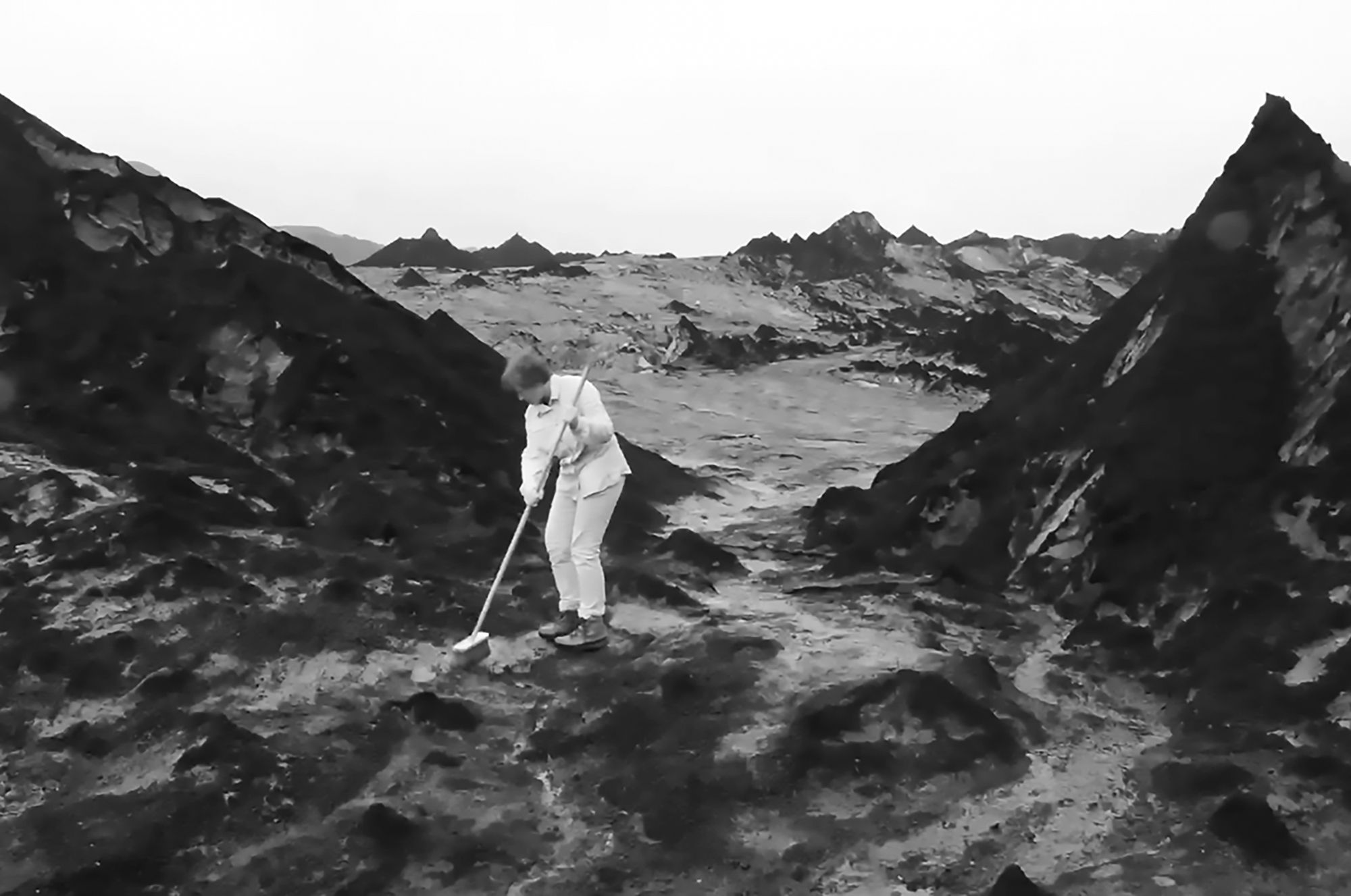 The least conventional presentation is Terri Warpinski's re/Turn: negative state (Heins Creek). A long scroll of amalgamated negative images (from northeastern Wisconsin preserves) unspools from a shelf with shredded paper nests. The image is light in value- -like a winter scene--and its lyrical linear patterns echo those of the nests. Inspiring ruminations ranging from Wisconsin papermaking to twig nests, the work provides an essay on the looping interrelationships of forest habitat and the Anthropocene. Grey letters scattered on the wall and floor can be willed into words, but they simultaneously insinuate that words may fail us in the face of nature.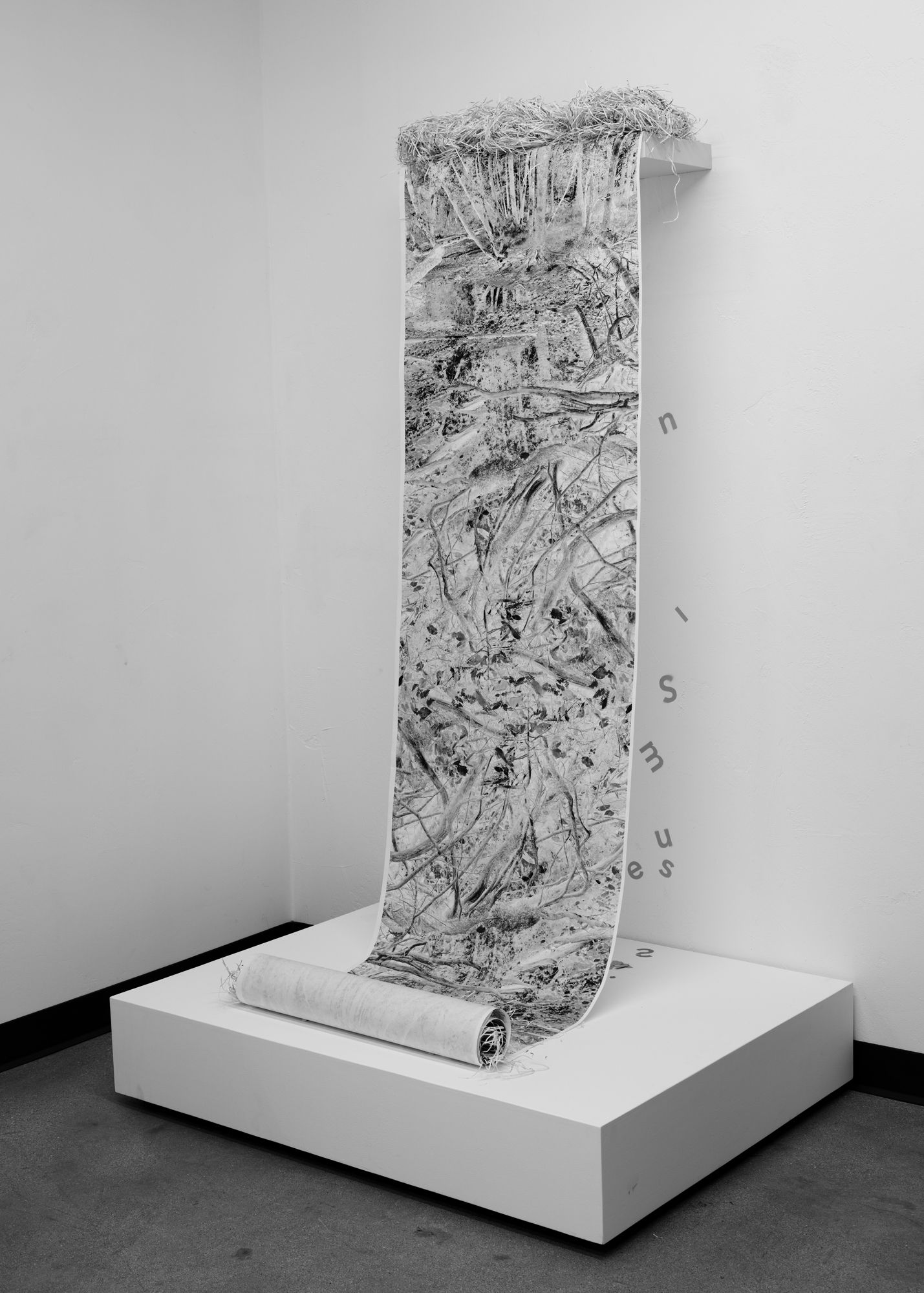 This exhibition is dense with supporting materials: books and bibliographies offered by each artist, QR code links, and a large display of natural objects as part of a work in progress by Warpinski. Further, a community project occupies an entire wall: people make and post cyanotypes of natural forms, extending the notion espoused by all these artists that civic engagement is essential to environmental preservation.
While all six members of the collective are women, the exhibit offers few explicit references to gender. Perhaps, as Evelyn Keller proposes in Reflections on Gender and Science (1985), what feminist thinking offers is an entirely different model of seeing that can open new avenues for productive practice. Certainly this group, individually and collectively, are deeply absorbed in ongoing efforts to investigate, comprehend, and repair our world, articulating those efforts in meaningful and engaging ways.
Environmental Photographers Collective:https://www.environmentalphotographers.com/ newARTSpace; https://www.newartspace124.com/exhibitions
Carol Emmons is an installation artist and Professor Emerita of Art at the University of Wisconsin-Green Bay.