Together We Rise: A new mural at Harbor House
In 2017, while planning the Building Hope Campaign, a mural was envisioned for the side of Harbor House–the Appleton agency dedicated to the awareness and prevention of domestic abuse. Morgan Kirchenwitz, the Marketing and Events Manager, explained that while they are fortunate to be able to benefit from the space they have, this particular section of the exterior was a "very institutional and 'cold' looking to the general passerby. As it faces the busy intersection of Badger Avenue and Memorial Drive, it was a perfect place to make a statement.
"Domestic violence lives in the darkness, and we want that to end," says Kirchenwitz. "We are looking to bring the issue, our work, and our services into the light. Our community is not immune to domestic abuse. The fact is that 1 in 4 women experience domestic abuse in their lifetime. That means we ALL know someone who has or is being affected by domestic abuse. We hoped by adding the mural to our building that we would draw attention to ourselves, the issue and the services available right here to support our community."
Artist Irineo Medina, who created the mural had this to add:
"When I think about the Harbor House mural, I think about it in two ways– personally and socially. There are a number of overlaps and nuances that weave in and out of both stories, but in short, I wanted this work to incur conversation. I often thought about the average passersby and how they might not have any idea what this building is or what they do. I am hopeful that it leads folks to wonder and ask questions, which may lead to further exploration of the Harbor Houses purpose and mission. Ultimately, I hope this work raises awareness around a cause that sadly has a growing need. Perhaps, these conversations could even move some toward contributing to the Harbor House in some facet."
Public art, and modern murals in specific, have a history of bringing social, ethnic, and racial issues to light. The space available to them– expanses of public walls–are a perfect method to have a passive "conversation" with those who pass by. This mural, called "Together We Rise," is a representation of the diversity of the people that Harbor House serves, Kirchenwitz explains. "The mural represents the community we are a part of physically here in Appleton and metaphorically as all of those who are doing the work to end domestic abuse. The bright colors of the mural are meant to show the beauty diversity brings. The mural's name, 'Together We Rise', means that none of us can rise, unless we all rise together. If we want better for ourselves in this life, we must lift up all others with us.
Mayor Jake Woodford had this statement about the mural:
"Appleton is a place where people can express themselves in various ways, and murals are a great way to do that. I hope that our public murals will encourage reflection and discussion around issues, while reflecting the beauty and diversity of our residents."
While the mural was created for the public sphere, there was a very personal connection for Medina.
"How I see this mural is a dedication to my mother. A survivor. A provider and a true warrior queen. I poured so much of myself into this one because unlike my other projects, this one was for my mother who has given so much of herself to make sure my siblings and I made it out. All of my projects always get my full dedication and drive, but this one had something extra that in many ways I didn't even know I had."
Both Kirchenwitz and Medina had wonderful things to say about the ongoing partnership they have had working together. "Irineo knows us, our work, our mission. He is fantastic with working with others, including children, on this project. Irineo also has a personal connection to our work which made us ultimately trust his artistic talents to bring our vision to life," Kirchenwitz stated. Medina said, "working with Morgan and the Harbor House was a dream. They put their full trust in me and allowed me push new ideas and try different techniques. And I think it was worth the push, it turned out pretty good I think." Irineo, it turned out fantastic.
"The mural was funded through a fund withing the Community Foundation of the Fox River Valley," Kirchenwitz explained. "The Katherine Westover 'Acts of Love' fund, which is a fund set up around the idea that love is the foundation upon which all good things are built and the essential starting point for all meaningful efforts."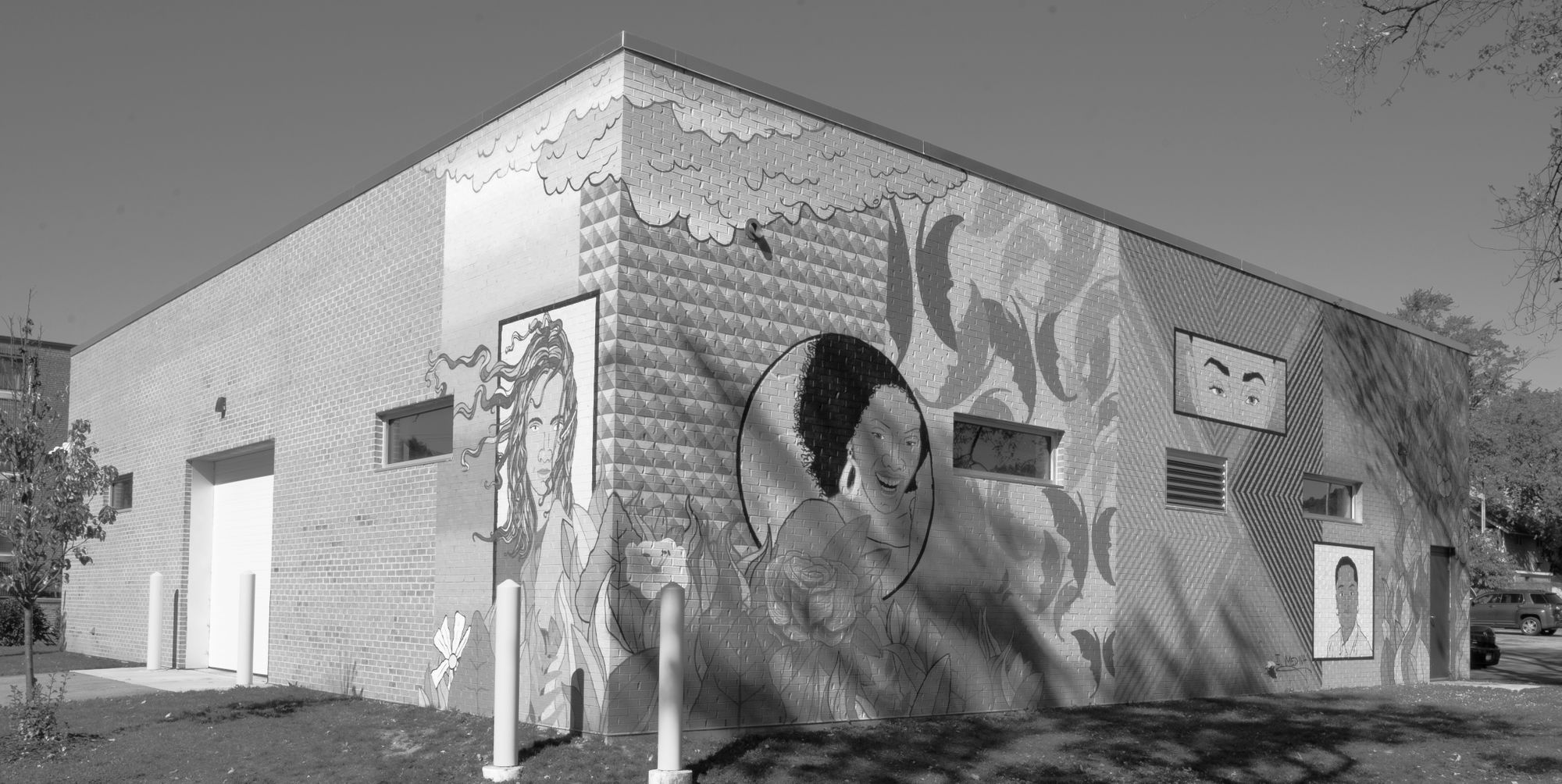 Kirchenwitz had this to add:
Join us in October, domestic violence awareness month, for the Purple Porch Project to light our community up purple in support of domestic violence survivors. For more information on our Purple Porch Project please visit, www.harborhousewi.org/ purpleporchproject. We are here and will always be here. We will remain staffed 24/7 and is here to address the immediate concerns of victims of domestic abuse. Together we will rise and get through this difficult time. If you suspect yourself or a loved one is in an unhealthy relationship, please give our advocates a call at 920-832-1667. Please consider supporting our survivors and staff working hard during this time of uncertainty, give. harborhousewi.org/togetherwerise